Ask any top-performing agent how they generate leads and they'll probably say something like this…
Lead generation takes time and effort. What "works" now might not work later. There isn't a "magic bullet" that can guarantee success.
So, instead of repeating the same two or three real estate marketing ideas over and over again, you're more likely to achieve steady year-over-year growth if you implement a comprehensive plan that includes a wide variety of strategies.
Sometimes that will involve the tried-and-true lead generation methods, and at other times you may have to test new ideas. The key is to have an open, entrepreneurial mindset.
To save you the time and effort it takes to research, here's a quick list of 20 proven strategies for getting more buyer and seller leads – for this year and beyond – regardless of your experience level.
Ideas for Building a Strong Marketing Foundation
Essential Real Estate Marketing Ideas
Next-level Tactics
Creative Real Estate Marketing Ideas
Ideas for Building a Strong Marketing Foundation
Chances are, you won't generate more leads by accident. It requires some planning. So no matter what, it's always a good idea to create (or revisit) your marketing plan. Here are a few of the most important elements to cover before you consider the other real estate marketing ideas on this list.
1. Define Your Farm Area.
The real estate farming approach helps you become highly specialized in catering to a certain audience so your marketing efforts can be clearer, more focused, and more compelling for that audience. (As opposed to being a generalist who attempts to be "all things to all people," which is rarely effective.)
It's better to think small. Shoot to establish yourself in a sub-area of your local market which has 500 homes or less. For you, that might include one neighborhood, one township, or maybe one (very rural) county.
Are you interested in learning more? Get the step-by-step guide to real estate farming.
2. Develop Personas
Establishing your farm area is a good starting point, but to get even more specific, you may want to consider creating personas – consumer profiles that describe (in detail) the main types of consumer you're targeting. For example, you might specialize in college-educated first-time homebuyers, or helping out-of-state empty nesters relocate into your Sun Belt community.
Let data guide the process. Gather as much information as you can about the demographics in your area of interest. Learn about the followers you have on social media. Make sure you have a customizable website that's integrated with MLS listings which collects and analyzes data about visitors' activities (such as home searches and saved listings, for example).
3. Create a Real Estate Marketing Plan
In Market Leader's free Marketing Plan, you'll get everything you need to make this year a success, including the following: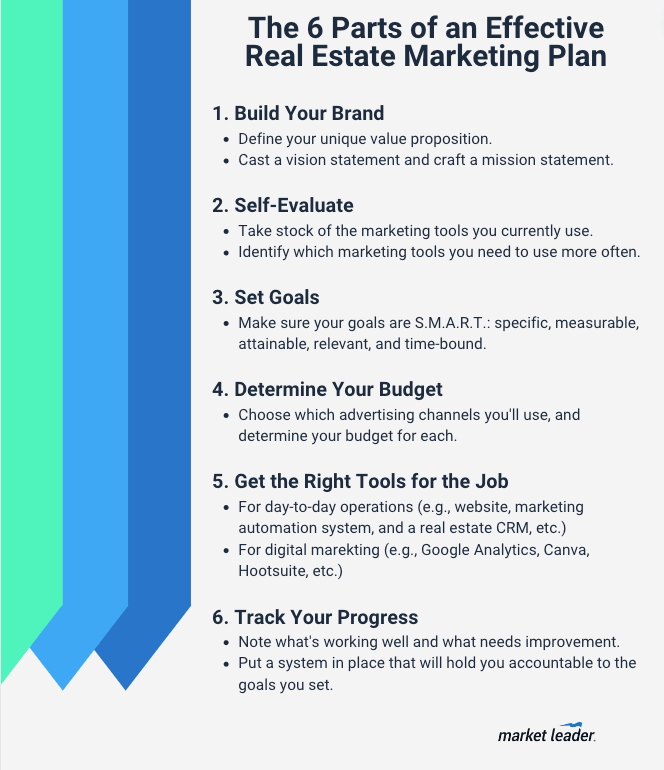 Planning for future growth? Get our "2024 Marketing Plan" to identify the strategies and tools which will help you get more leads and grow your business next year.
Essential Real Estate Marketing Ideas
Before you work on taking your business to the next level, make sure you're not overlooking any of these marketing musts.
4. Buy Real Estate Leads
If you've been in real estate for any length of time you'll know that shifts in the market can have a major impact on your ability to generate leads. Sure, there may be some level of predictability throughout the year, but there will always be many factors that are simply out of your control.
So rather than rely on your own marketing efforts alone, it's wise to let digital advertising experts generate buyer and seller leads for you, especially during times of uncertainty.
Buying leads is common practice among agents of all experience levels for several reasons. It's easily the fastest way to generate new leads. It's consistent. You reap the benefits without having to do any of the seek-and-find work. And it has the potential for a very strong ROI versus creating your own digital advertising campaigns.
But make sure the leads you get are exclusive to you (i.e., they aren't shared with other agents) and that the provider can guarantee you'll get a set number of leads each month.
5. Work Your Network
No list of real estate marketing ideas would be complete without this. There are three basic steps to generating leads from your network:
Identify who's already in your sphere of influence (SOI). Discover how by learning the six SOI real estate marketing best practices.
Reach out to everyone in your network: family members, friends, neighbors, local community groups, followers on social media, recreational sports teams… This list could go on, but you get the idea.
Expand your SOI by attending networking events, developing business partnerships, and improving your social media marketing (more on that later).
Quickly learn more about how to build your real estate network and get 10 best practices for doing it the right way.
6. Find Ways To Get More Referrals
According to NAR research, the typical REALTOR® receives approximately one quarter of their income from real estate referral commission (both from consumers and other agents).
Another study indicated that outbound referrals "make up a median of 12.5% of total transactions per agent per year." And if the referral commission fees you receive are around 25%, that can add up to a significant amount of income for all agents involved.
One referral often leads to many more, which can eventually become a steady (and passive!) lead generation source. If that piques your interest, be sure to learn these five ways to build a referral-based business.
7. Use Your Website as a Way To Generate Leads
Not just any website will do. Make sure your website is set up to be a lead-generating machine tailored to accommodate sellers in your area.
Pack it with valuable content, resources, information about the local market, and testimonials. Here are the six traits that many top-performing real estate websites have in common:
A homepage that makes it immediately clear who you are and where you serve
MLS listings (kept up-to-date through an IDX integration)
News and information about the local community
Neighborhood-specific market trends
Useful resources (such as a "home buyer's guide," for example, or a "seller's checklist")
A blog that's SEO-friendly
Lead capture tools (e.g., forms on listings for scheduling showings with agents; forms for requesting a CMA; forms for registration, allowing for saving searches and listings)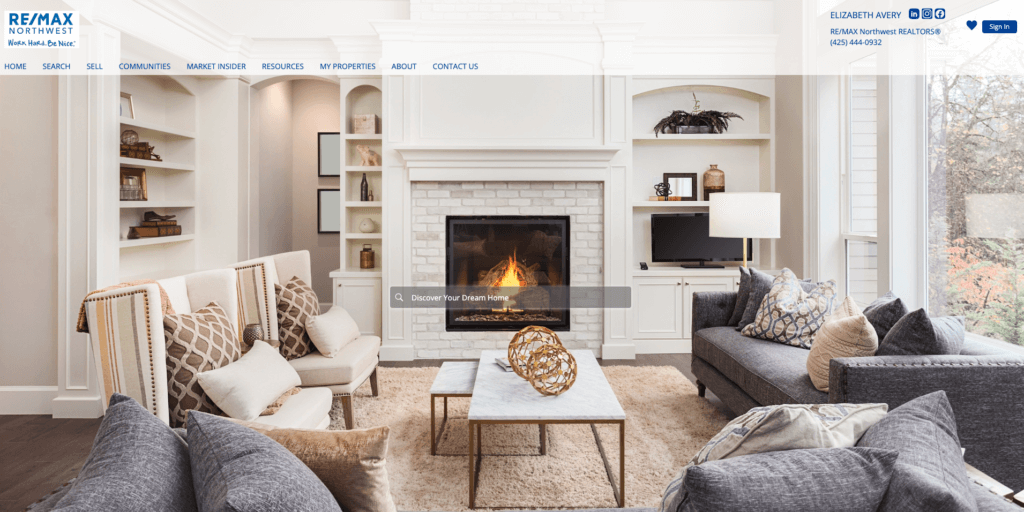 Love this example from Kirkland, WA agent Elizabeth Avery? Learn how you can get a customizable real estate website of your own.
8. Generate Leads Through Social Media Marketing
Nearly one in three REALTORS® (29 percent) fail to include social media marketing as a way to generate business, according to a recent NAR study. That could be a costly mistake.
Social media is one of the most valuable real estate marketing tools for keeping in touch with past clients, generating new leads, and preventing warm leads from going cold. Those are significant benefits, and they're relatively easy to come by, as long as you have the right system in place.
With these tips and 37 real estate social media post ideas, never again will you have to waste time trying to figure out what you're going to post about.
9. Turn Your Business Cards Into Real Estate Marketing Tools
You never know when you might need to create a great first impression. So be sure to keep a few business cards on hand, especially when you're attending networking events.
But times have changed. In real estate, business cards are no longer mere slips of paper that share your contact information. They can be an important part of fostering a positive brand experience.
So don't settle for just any old design. Learn the five tips for creating effective real estate business cards.
Next-level Real Estate Marketing Ideas
You've developed a plan. You've got the essential strategies nailed. And now you're ready to expand your reach so you can continue to grow your business. That means it's time to try out these six marketing ideas for rising to even higher heights.
10. Host Your Own Networking Events
Have fun and get creative with it. Host a party, charity dinner, concert, local business giveaway event… the options are endless. Your networking events could be small or large, simple or extravagant.
As long as you're reaching out to potential buyers and sellers in your area and getting a chance to mingle, you're on the right track.
11. Host Outstanding Open Houses
You might be surprised to see this here on a list of real estate marketing ideas, but it definitely belongs. Open houses don't have to be forgettable sit-ins with stale crackers and a dinky cheese plate.
Instead, think of them as another kind of networking opportunity or community event. Make it the kind of event which potential buyer leads in your area would actually want to attend, then show them what they can expect if they work with you. Learn to maximize the marketing potential of your next open house.
12. Launch Direct Mail Campaigns
Even if it is slow, "old school," and relatively costly (compared to real estate digital marketing, for example), sending postcards, flyers, brochures, and handwritten letters can be more than worth the investment.
According to a recent report from the Association of National Advertisers, direct mail offered marketers a 112 percent ROI. Even email marketing (at 93 percent) couldn't come close to that.
If you're ready to include print campaigns as part of your marketing strategy, here are some compelling content ideas for your real estate mailers (plus a list of examples!).
13. Use Newsletters for Marketing Purposes
It's one thing to send out pointless, generic "updates" just because you feel like you should. But it's another thing entirely to create high-quality newsletters that serve the specific purpose of engaging your contacts. The former is a waste of everyone's time, and the latter functions as a valuable marketing tool.
Creating effective newsletters might seem like a daunting task at first. But don't worry. With these fail-safe tips and ideas for real estate newsletter marketing, you'll have all you need to produce effective, compelling, and engaging pieces of content that actually have the potential to yield serious results.
14. Start a Blog
If you feel like this idea sounds time consuming, that's because it is. But like the other real estate marketing tools mentioned on this list, blogging comes with several benefits that outweigh the costs. For example:
Writing about topics that are relevant to your target market and using the same keywords they use via search engines is a powerful way to bring new visitors to your website. Once they're there, you'll have prime opportunities to convert them into leads (with lead-capture forms, for example).
It keeps your current leads and past clients engaged and coming back to your website (instead of your competitors'). Just be sure to post new articles on a regular basis, to make it an SEO-friendly, reliable source they can turn to whenever they need help.
It also gives you a chance to demonstrate your expertise. Sharing valuable information that solves common problems helps you establish trust and credibility, which often results in loyalty and lead-to-client conversion.
15. Use Social Proof
Providing social proof is a hallmark of effective real estate digital marketing.
Consumers often want authentic proof before they commit to a brand. But they don't want the proof to come only from the brand itself – they want to hear from users, clients, and anyone else who has actually experienced the product, good, or service. They want what's referred to as "social proof": testimonials, reviews, and influencers' perspectives.
There are many ways you can capture reviews on Facebook, for example. Or you could set up a form on your website or request reviews via your Zillow profile.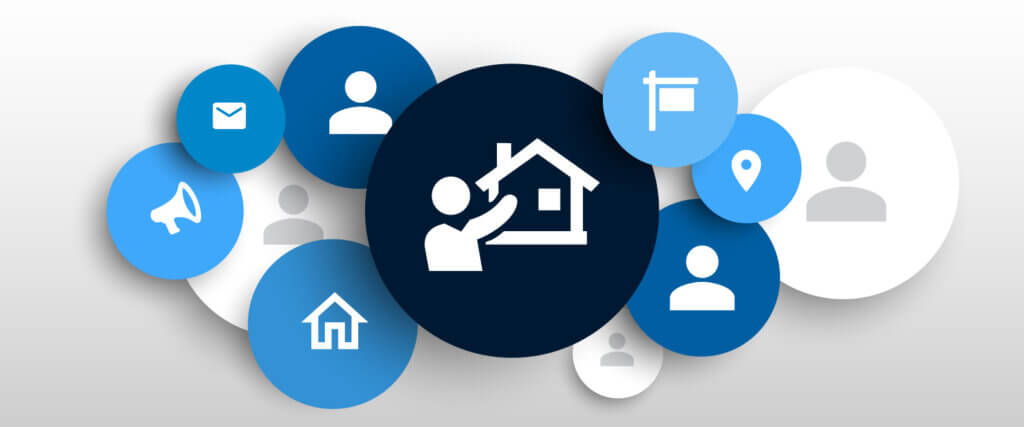 Creative Real Estate Marketing Ideas
Ready to implement some marketing strategies you may not have tried before? Here are five ideas to get you thinking outside the box.
16. Partner With Flippers
Investors who flip homes have many roles to juggle. And while they may sometimes be a "jack of all trades," they often need help from a master of real estate sales. That's you.
Flippers and real estate agents can develop a partnership that's both complementary and mutually beneficial.
Becoming a flipper's go-to agent gives you an opportunity to expand your network and double your reach. Most importantly, it helps you create a passive mode of lead generation, as their prospects are your prospects and their closings become your closings.
17. Assist With Relocation Services
Corporations and government agencies are sometimes responsible for relocating their employees to a different city, state, or province. You can be the real estate agent who helps both the business and their employees with the move.
There are two main ways to start acquiring relocation leads.
Partner with companies who are in a related field. Reach out to movers, storage facilities, and local relocation service providers.
Reach out to the HR teams at large employers in your area and offer to help. If you land that kind of a partnership, you'll have opened for yourself a reliable stream of leads who are willing and ready to both buy and sell with an agent who's helped their colleagues out.
18. Pursue Probate Sales
For some agents, pursuing probate sales ― a situation in which a home needs to be sold to settle a deceased person's estate ― is among the most uncomfortable of all real estate marketing ideas. But it can be a worthwhile endeavor. Here are a few ways you can find seller leads from probate sales:
Check obituaries in your local newspaper. By entering the names of the recently deceased people you see in obituaries into your county assessor's database, you can quickly learn if they were homeowners.
Check estate sales. Craigslist and EstateSales.net are good resources for finding them. While not all sales listed as "estate" deal with a deceased person's belongings, most do, so they're worth paying a visit so you can learn if their family needs to sell.
Check probate records in your area. Probate procedures vary from one county to another, so start with your local judicial district court. Many publish their probate records and court schedules online.
19. Work With Divorce Leads
As with probate sales, this isn't exactly a pleasant topic. And divorcees may not be the happiest clients you'll work with. But closing deals with this segment of motivated sellers can be more than worth the effort.
How do you find divorce leads? Here are some ideas to try.
Partner with divorce attorneys
Partner with lenders who specialize in divorce cases
If divorce records are made public in your state, consult your local city clerk's website
Use targeted ads on social media
20. Rescue Distressed Sellers
We've come to the last of our 20 real estate marketing ideas. But it's certainly not the least. Distressed sellers (those who need to sell urgently) are often highly motivated, which means you've got a higher chance than you normally would of turning them into clients.
Here are the most common ways to find distressed sellers.
"Drive for dollars." The physical appearance of a distressed property is often a strong enough indicator that someone is in need of a real estate agent's expertise.
Search online. For example, check out Foreclosure.com or Auction.com.
Target expired listings. Though not all owners of expired listings are distressed, there's a good chance you'll find some if you go this route. On your MLS dashboard, filter listings by date and the "expired" status.
Get Your 2024 Marketing Plan Today!
Your business won't magically grow on its own. You'll need a marketing plan to generate more leads in 2024—that's the first step to getting more clients and increasing your commission income.
Download our 2024 marketing planning guide today to get all of this and more:
Simple, fill-out-as-you-go worksheets and templates
Brand-building prompts (with tips & examples)
S.W.O.T. analysis & goal-setting walkthroughs
Marketing musts for 2024
Social media marketing cheat sheet
Much more!
Submit your email address below to have the "2024 Marketing Plan" sent to your inbox!