If sending real estate mailers is part of your marketing strategy, you've got the right idea. It's definitely an effective way to generate buyer and seller leads.
According to a recent report from the Association of National Advertisers, direct mail offered marketers a 112 percent ROI. The more modern equivalent, email marketing (at 93 percent), couldn't reach that.
But surprisingly, the study also revealed that only 38 percent of marketers used direct mail, which is remarkably low compared to email usage (at 82 percent).
Combined, these two findings – high ROI plus low usage – present you with very good news. It suggests that not only do your mailers have the potential to stand out, but they could also provide a solid return.
More good news: Creating and sending real estate mailers that work for lead generation may not be as complicated as you think. Here are some quick tips and a handful of examples to get you going.
Jump to the Real Estate Mailer Examples!
What To Send
Before you decide on a message, consider the four main types of mailers.
Real Estate Postcards
Real estate postcards are meant to capture attention quickly and are perhaps the most common type of mailer agents send to generate leads. They're "short and sweet," visually dominant marketing pieces designed to reach consumers in a specific farm area.
The content of most real estate postcards typically fills the front and back of a four-by-six inch or five-by-seven inch sheet of paper. They often include an eye-catching image and headline, a brief message, and a call to action.
Example: A "just sold" postcard sent to the nearby homes in your recent listing's neighborhood.
Flyers
Similar to real estate postcards, flyers are simple one-sheet-long mailers or handouts that agents use to introduce themselves or promote their services. But they're larger in size than postcards (usually printed on foldable letter-sized or A4-sized paper) and often include a bit more information.
Example: An invitation to a local event you're hosting or sponsoring.
Handwritten Letters
Now that just about everything can be digitized in some way, the novelty of this kind of personal communication offers a serious advantage over your competitors who send generic emails and texts en masse.
For the average consumer, there's something special about receiving a letter in the mail from an agent who took the time to address you by name and write a message about your specific situation. (But go easy on yourself – get to your point quickly and keep it short so you can avoid hand cramps!)
If you want to learn more, here's a how-to guide for writing real estate prospecting letters that includes a handy checklist and several samples you can adapt to fit a variety of common situations.
Example: A quick-and-genuine note written to the owner of an expired listing.
Brochures
Brochures are the lengthiest of all real estate mailers. They're full-color, bi-fold or tri-fold pamphlets that agents use for communicating a fuller story or a more detailed message than real estate postcards, letters, or flyers could ever share.
Example: A brochure that establishes you as the area's expert by highlighting a few local attractions and favorite spots (to show you know a lot about the area), sharing your bio and experience, and showing a handful of recently sold homes.
Content Ideas For Real Estate Mailers That Work
Now that we've looked at the medium, it's time to consider your message. Instead of sharing whatever's on your mind and hoping for the best, be intentional.
In other words, align the content of your message with the goals you've set for each campaign and your overall real estate marketing plan.
There are numerous kinds of messages you can share for each of the real estate mailer types listed above. Of course, this list of content ideas is far from complete. There are many more that could be added here. But to narrow it down to the fundamentals, here are some examples of the most common messages agents use to generate leads.
Introduction Letter
This is almost as simple as it sounds. You send out a mailer to those in your area just to let them know who you are, where exactly you serve, what kind of experience you have, and a little bit about your personal life.
But here's the key: This isn't merely an introduction. It's an opportunity to establish yourself as the area's real estate expert.
So be sure to include a high-quality, professionally shot photo of yourself, your contact information, and (most importantly) a message that conveys why you're the agent who can help them answer their questions, overcome their challenges, and meet their needs.
Reviews, Testimonials, and Client Stories
Reviews and testimonials are especially valuable if they come from neighbors or people they might run into at the local grocery store. This is often referred to as "social proof," and it's an essential part of any serious marketing campaign.
So leverage your recent successes and turn them into compelling stories that demonstrate your expertise. "Just sold" postcards are a classic example of this. Learn the four parts of effective "just sold" postcards.
Provide Local Market Information
Sharing the area's latest housing trends is a win-win. It's good for your prospects, leads, and clients because it helps them make informed decisions about when it's time to buy and sell. And it's good for you because it boosts your credibility and positions you as the expert, the agent who's "in the know."
For example, you could provide the following kinds of information:
median listing price of homes currently for sale and listing prices of recently sold homes
information about housing inventory (to show how quickly or slowly homes are currently selling)
neighborhood profiles (e.g., demographics, crime rates, quality of schools)
financial information (e.g., current mortgage rates, various mortgage options, down payment assistance programs)
Offer a Free Home Valuation
Sending a real estate mailer that shows a home's approximate value based on an area-specific CMA is a great way to generate seller leads. (Don't know what that means? Learn all about what a real estate CMA is and how to create one.)
Or you could borrow an idea from Matt Tenczar, a REALTOR® from the Bay Area who has closed nearly 700 transactions over the last 31 years. First, he sets up a simple web page that offers a free home valuation (using Market Leader's HouseValues lead-capture tool).
Then he creates a real estate postcard that has a short question or statement (such as, "Curious about your home's value?") and a call to action that includes a QR code. That way, the recipient can simply scan the code with their smartphone and submit their contact information in exchange for the home valuation request – all from their doorstep. Meanwhile, Market Leader automatically imports the lead straight into Tenczar's CRM so he can quickly follow up.
5 Real Estate Mailer Examples You Can Make Your Own
You now have at least a basic idea of what kinds of mailers you can send. And you have some content ideas to work with. Now let's put it all together and dive into some real-life examples.
1. The "Just Sold" Postcard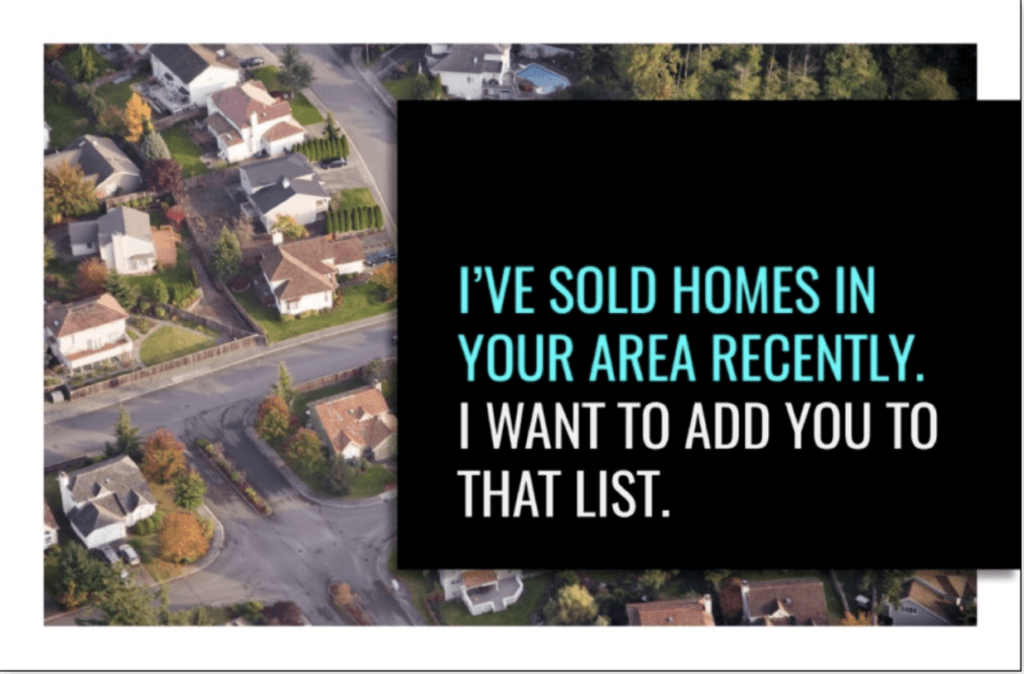 Why We Love It:
This is a refreshing take on the "just sold" postcard concept. With a straightforward message, it says what it needs to say while cleverly avoiding any language that would come across as being overly self-promotional.
2. The Simple Introduction Flyer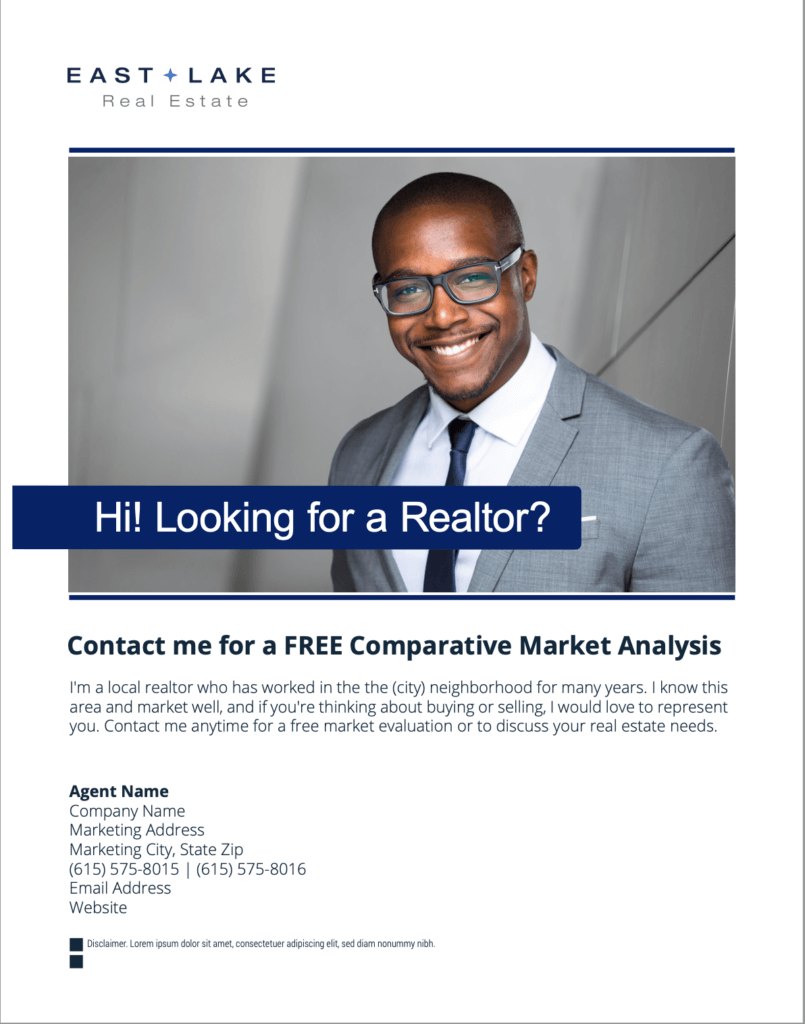 Why We Love It:
There's a lot to love about this. Great photo? Check. Free CMA offer? Check. Straightforward, human-to-human sounding writing? Check. The design doesn't feel too busy, and yet it covers all of the bases (including a brief introduction and all of the necessary contact information).
3. The "Home Buying Wish List" Flyer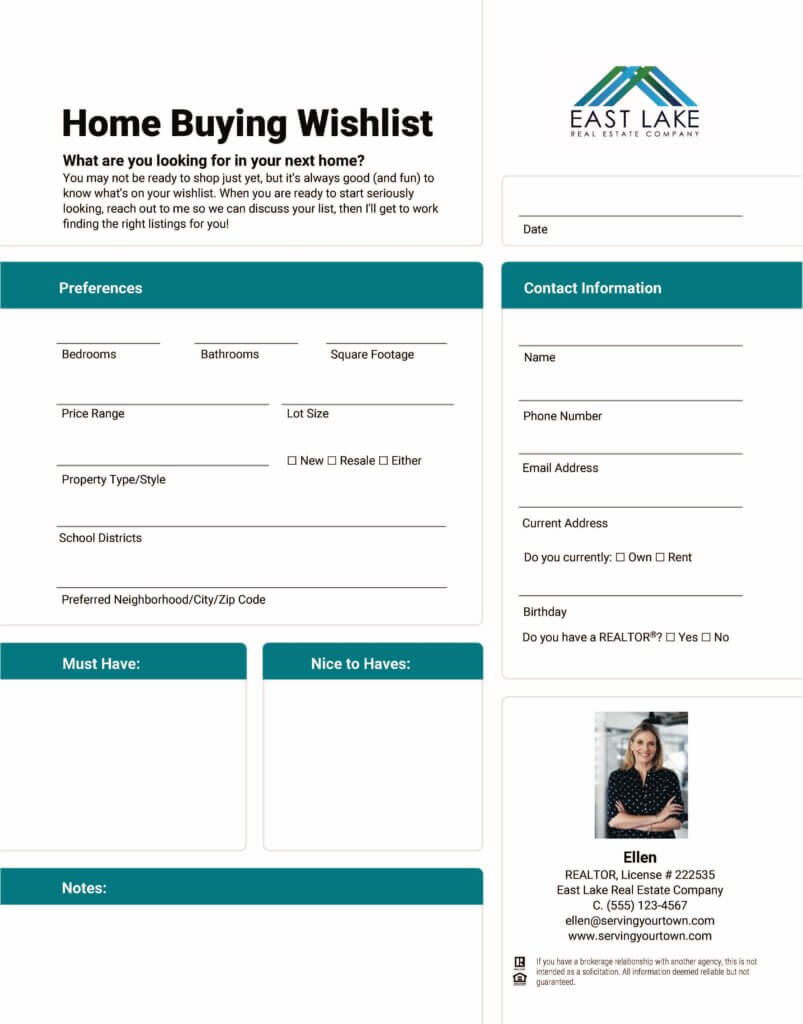 Why We Love It:
The layout alone is enough to show that the agent places her clients' needs first. What a great way to start off the relationship. Plus, it sets the agent up for a quick-and-easy follow up because all of the home buyer's interests have already been covered.
Love what you're seeing here?All of these examples were created using Market Leader Professional. You can create your own real estate mailers which look just like them.

LEARN MORE
4. The "Home Care" Flyer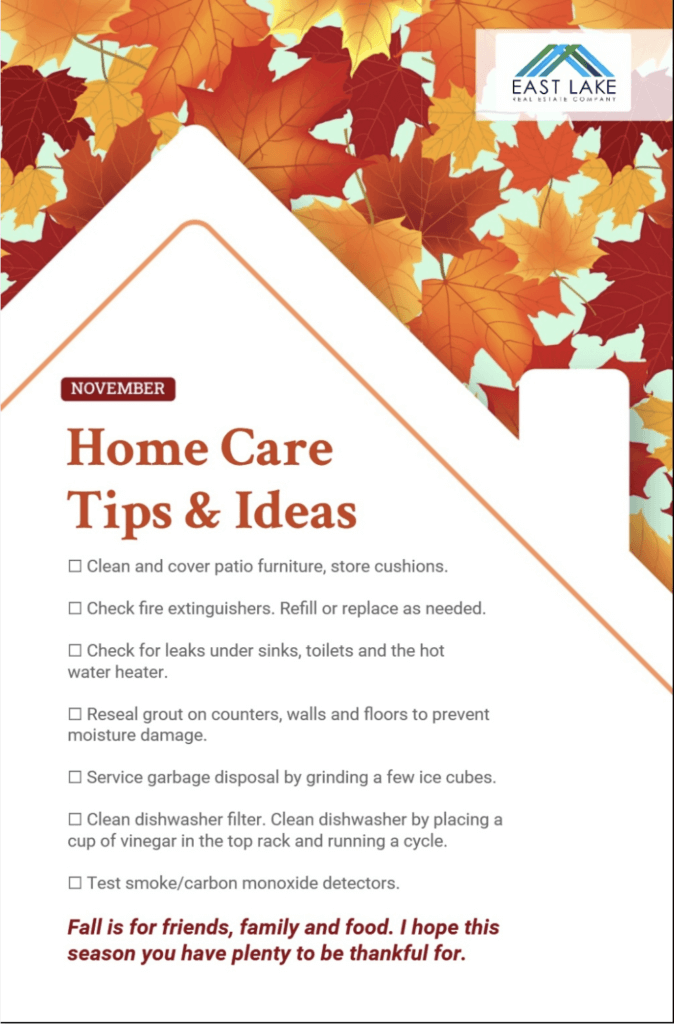 Why We Love It:
Sending flyers like this is an effective way to demonstrate your expertise, stay top of mind, and provide information that's truly useful. The tips you share can be related to real estate transactions (e.g., buying, selling, market trends, etc.), but as we see with this example, they don't have to be.
5. The "Just For Fun" Real Estate Postcard
Why We Love It:
While it may seem like this is "just for fun," it's actually more than that. Whether you're celebrating an unofficial holiday, sharing a recipe idea, or telling a joke, a real estate postcard like this is a great way to capture attention and show off your unique personality. (But remember, if your goal is related to lead generation, be sure to include your contact information and at least a brief call to action.)
The Easiest Way To Create & Print Real Estate Mailers
There are at least two ways to approach it. One way is to create your own from scratch, using a free design tool like Canva, and then finding a good printer and shipper.
But the easiest way is to use a full-service, all-in-one system that allows you to do it all in one place – from designing to printing, and from sending to progress-monitoring.
With Market Leader Professional, for example, you can work with a robust marketing center that enables you to…
Create your own real estate postcards
Choose from a collection of more than 1,000 pre-built templates for postcards, flyers, and newsletters
Personalize your mailers with an easy-to-use editor
Order professional printing
Easily add all your current contacts – either individual or specific groups of contacts – or every new contact to one-off or drip print marketing campaigns straight from your CRM
Schedule future campaigns with the click of a button, so you can "set it and forget it"
It's now faster, easier, and more affordable than you'd think to create high-quality real estate mailers that will get you more clients.