The first thing to understand about real estate networking (as opposed to networking in any other sense) is that its primary purpose is to generate leads so you can grow your business.
It's not that schmoozing, meeting new people, making new connections, or exchanging services are bad reasons to network for other types of businesspeople. It's just that those aspects of networking are simply the means to an end (closing more deals) for real estate agents.
Why is it important to start with that idea? Because there are so many ways to network in real estate that it can be difficult to know where to begin, and focusing on the end goal of creating new lead sources can help you figure out what networking-to-close-more-deals actually looks like for you and your business.
The second preliminary thing to know about real estate networking is that you already have a "built-in" network. And chances are, it's bigger than you realize.
For example, think of how many people you interact with on a regular basis in social circles such as the following…
Family members and close friends
Neighbors
Local community groups or committees
Religious/faith community
Followers on social media
Recreational sports teams you're part of
It deserves to be said at the outset that it's a good idea to devote much of your networking time and energy to everyone (everyone!) who fits in those categories first.
But what if you're already leveraging your "built-in" network, you've been implementing a well-developed real estate marketing plan, and you're still not able to reach your lead generation goals. Then what?
Then it's time to learn some new networking strategies so you can expand your reach. Good news: It's easier than you might think. Let's get started.
How To Build a Network in Real Estate
Okay, so you already leverage your "built-in" network and you know that expanding your reach is very important if you want to increase commission income.
Now what?
Here are seven ways to build a lead-generating network so you can grow your real estate business.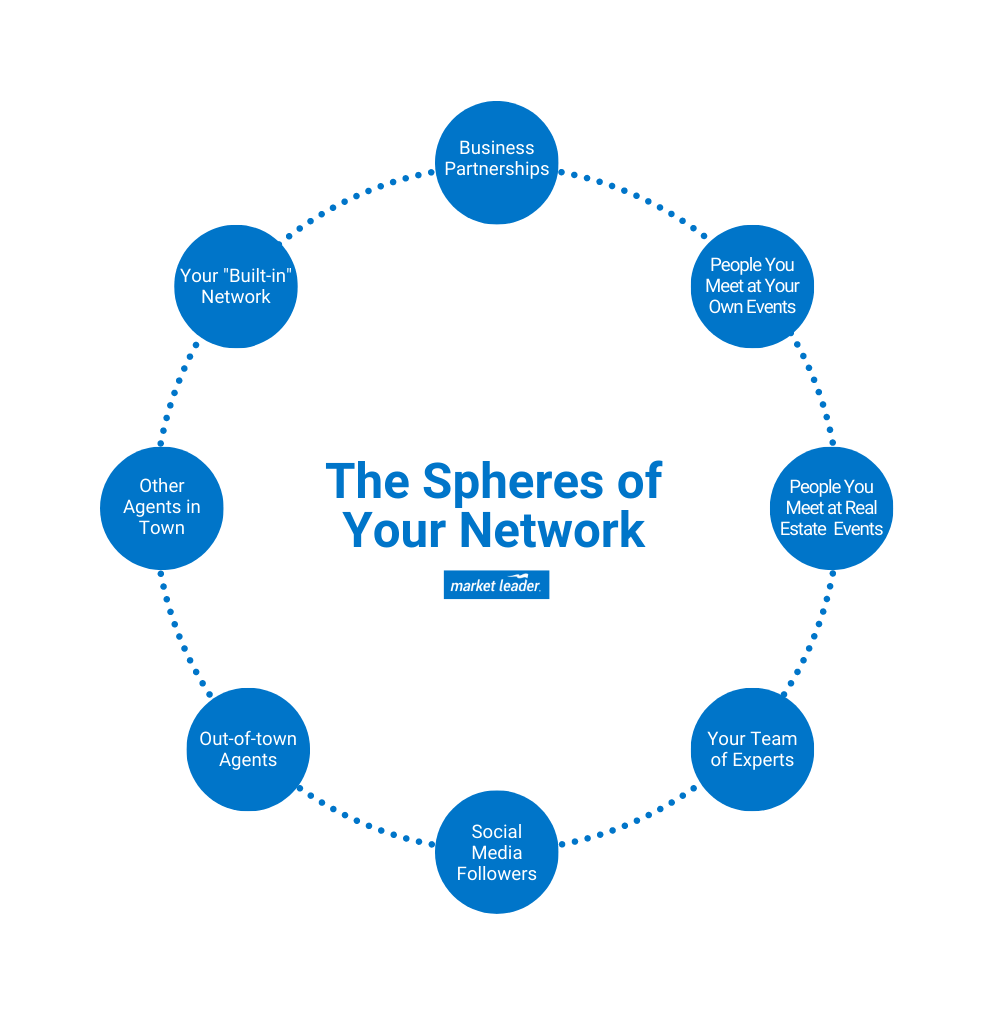 1. Attend Real Estate Networking Events to Meet Other Agents
Of course, you're not alone in your need to expand your reach. Virtually all real estate agents need to do the same.
That's why there are so many events that happen all around North America that are designed for the specific purpose of helping agents build a stronger network. And there are countless more that aren't designed for that specific purpose but still qualify as perfect networking opportunities.
Needless to say, it's impossible to list every event you could attend for the purpose of networking. But here are several ideas to get you started.
If you're a "go big or go home" type of agent who's willing to pay a decent amount of money to learn from the best and meet other agents who want to do the same, you'll definitely want to check out these three real estate networking events:
Inman Connect – Inman is "the industry's leading source of real estate information." Twice a year, they host one of the largest conferences in the industry that brings thousands of agents together to learn about trends, technology, marketing strategies, and more – and of course, to network. (Cost: Starting prices are $1,399 for "select subscribers" and $1,499 for "non-select subscribers".)
Tom Ferry's Success Summit – Tom Ferry's educational resources have a longstanding legacy among real estate professionals, and so does this event. Now in its twentieth consecutive year, Tom Ferry's Success Summit offers "actionable advice direct from real estate's No. 1 coach, Tom Ferry, off-the-charts energy, amazing guest speakers, and a world-class extra-curricular experience." (Cost: Starts at $499)
NAR Real Estate Events – NAR hosts a number of world-class events for real estate professionals, including numerous state-wide conventions, "NXT – The REALTOR® Experience," the REALTORS® Legislative Meetings & Trade Expo, and more. (Costs vary per event.)
Check out these pro tips for making the most of the opportunities you'll have at big real estate networking events such as the ones listed above:
Say hello. No matter where you are – in line at the restroom, at a booth on the exhibit floor, waiting for a cocktail at the hotel bar – smile and say hello to everyone. This one simple word can spark a conversation, a connection, and maybe even a real estate deal down the line.
Take advantage of breaks between speakers. This isn't the time to check your voicemails or scroll through posts on social media. Author and speaker Thom Singer suggests that you smile at people, approach them, and ask questions such as, "How are you enjoying the conference?" or "Who is your favorite speaker so far?" Ditch the elevator pitch (or "verbal vomit," as Singer calls it), and get the other person talking about themselves. Don't forget to listen!
Avoid sitting with someone you already know, unless you're meaning to nurture a newly formed relationship. The idea is to meet as many new people as possible.
Arrive early to the events. This is especially important if you're on the shy side. That way you won't feel as if all eyes are on you when you walk in. Plus, the conversations start up around you naturally without you having to be the one to initiate.
Bigger events aren't always better, nor are they the only ones to provide prime networking opportunities. Sometimes the smaller, more close-knit events that are closer to home can yield even better results. For example, considering the following…
Gatherings held by your local real estate association – A simple Google search for the name of your city followed by "real estate association" is most likely all it will take to find what you're looking for.
Real estate networking groups on Meetup – Currently, there are nearly two million members and more than 3,000 groups to join. Group sizes vary from huge to small, and from worldwide to local.
Facebook Groups – Find out if there are real estate networking groups on Facebook for your local area. (If not, maybe now's a good time to start one.) But in addition to that, don't underestimate the value of being an active member of groups that have nothing to do with real estate. On a platform like Facebook, the lead-generating power is virtually limitless.
2. Host Your Own Networking Events
Rather than going to meet prospects, have them come to you. It can be related to real estate, but it doesn't have to be. Have fun and get creative with it.
Host a party, charity dinner, concert, local business giveaway event… the options are endless. It could be small or large, simple or extravagant.
As long as you're reaching out to prospects and/or other real estate professionals in your area and getting a chance to mingle, you're on the right track.
Hosting open house events is another great way to meet new people, expand your reach, and generate leads. Learn how to host an amazing open house as a way to grow your network.
3. Develop Business Partnerships
Make a list of businesses you want to work with. There's no wrong answer here. It could include a veterinarian office, health-food store, coffee shop, pet groomer, laundromat… you get the idea.
Then go through your list and ask the owner if they'd be willing to allow you to display some marketing materials and business cards at their spot. Tell them that, in return, you'll refer your clients to their business, feature them on your website, or that you'll include them in your client "welcome packet" full of your best recommendations and local favorites.
You'll find that it's relatively easy to network in this way because it's mutually beneficial for both parties and they'll be glad to combine audiences.
4. Form a Team of Experts From Related Fields
If you haven't already, reach out to moving companies, brokers, insurance agents, lawyers, and interior designers to form a team of people who can support you and your clients at every step of the marketing, buying, and selling journey.
The benefit of having a go-to network like this is twofold. It sets you up to provide help for your clients when they need these kinds of services. And at the same time, it widens your network and increases the number of potential referral sources you have.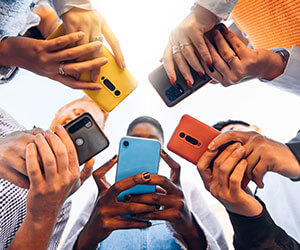 5. Do Your Networking on Social Media
After all, connecting people is what the many social networks available today are designed to do.
Facebook is the obvious example. But all of the other major platforms – including Instagram, LinkedIn, YouTube, Twitter, and even Pinterest – are perfect tools for real estate networking.
Stay active. Comment and reply.
The more you engage on your local market's community hubs on social media, the more visible you'll be. The more helpful and service-oriented you are, the more leads and followers you'll attract.
Think of your comments and replies as opportunities. Think of them as conversation starters that will eventually develop into appointments.
Keep up on social events.
Start paying close attention on social media when prospects are celebrating a special occasion – a birthday, wedding anniversary, work anniversary, a career milestone, etc. (Facebook and LinkedIn, for example, allow you to turn on notifications for these kinds of events.)
Reach out to them in a direct message with a quick, authentic, personalized note of congratulations or whatever the occasion might call for. Sometimes that's all it takes to remain top-of-mind so that when the time comes for them to buy or sell, they think of that one agent who always remembers their special day.
6. Network With Out-of-town Agents
Why? Because it's a great way to generate referral income.
Let's say, for example, an agent from another state has a client who is looking to buy a home in your area. They can't be the one to complete the sale because they're not licensed in your state. But they'd be happy to receive referral commission on the transaction by sending them your way.
Many businesses, such as ReferralExchange.com, exist to connect out-of-state agents for this very reason.
7. Network With Other Agents in Town
This is a serious suggestion, believe it or not. If the term "networking" throws you off here because you can't imagine befriending a competitor, call it "socializing."
Whatever you call it, getting to know fellow agents in the area can be valuable. From commiserating to sharing ideas or having lunch, cocktails, or coffee with another agent in your market can be good for the soul.
And maybe (just maybe) it could be good for your networking value as well. Who knows, maybe someday they'll need to pass one of their clients on to someone else for one reason or another and you'll be the agent who comes to mind for a referral.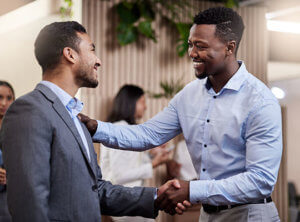 10 Practical Tips for Networking in Real Estate
There's a big difference between simply "making connections" and networking for the purpose of generating leads and filling your pipeline. Here are 10 specific actions you can take to ensure you do the latter.
1. Be a card taker. Always think about ways you can form partnerships with the people you've met.
2. Be a good listener. Pay close attention when people are talking in order to actually form a connection. Be curious and ask good follow-up questions.
Is listening not a strength of yours? Take heart – it's a skill, which means you can get better at it with practice.
3. Be friendly to other agents. We already touched on this, but it's worth repeating here. Smile, say hello, shake hands, and be (genuinely) friendly.
Having a strong network that includes other agents means you can share best practices, lessons, and referrals.
You might even end up developing a strong professional relationship with an agent or working with them as part of a team down the road.
4. Take the initiative. Be the first to follow up with your contacts. Just give them a call and get permission to stay in touch. That's as big of a win as you can hope for at first.
5. Use the best real estate CRM. Whenever you capture a lead's contact information, be sure to enter them into your contact relationship management (CRM) as soon as possible so you can put them on a drip campaign or set a reminder to follow up with them.
6. Have a plan. In other words, don't just wing it. Remember, networking is different than just "hanging out" in that you have specific intentions and goals in mind. So (when applicable) plan who you want to talk to and why.
For example, are you going into this particular gathering or joining that particular group for the purpose of converting leads into clients, forming a mentor-mentee relationship, connecting with a community leader, or increasing referral sources? Set goals and decide beforehand how you plan to reach them and what you'll do after the event or group meeting.
7. Give more than you get. Go into every event looking to help people. Hand out branded pens or hats. Give referrals to local businesses and send business to startups. Share advice. Show that you care about others and the community you're part of.
Yes, this is altruistic. But there's more to it than just the warm-fuzzies: The more helpful and service-oriented you are, the more likely you are to stand out from other agents, and will thus attract more leads.
8. Widen your circle of friends. Don't spend free time only with people you already see all the time. Deepen the relationships you have with acquaintances. Reach out and make new friends sometimes.
9. Really get to know people. As you're networking at an event (or whatever the case may be), get them to talk about their families, their specific real estate needs, professional concerns, and so on.
Why? There are two reasons. First, it will help you establish deeper, more genuine relationships if you can remember the details of their lives.
And second, because the more you know about them, the better you can serve them as an agent. Afterwards, make notes for yourself so you can refer back to them next time you meet.
For example, let's say you talk to a prospect who has a baby on the way. That may indicate that they're going to be looking for more space in the future.
Or let's say you talk with someone and you find out that their job is relocating them to another city. That might mean they'll be listing their house soon. And if you have an idea when that'll happen, maybe you could deliver a well-timed mailer about local home values and give them a quick phone call to see how things are going.
10. Have fun. Networking in real estate is serious business, but being overly serious about it can be counterproductive. Relax and enjoy yourself. Having fun is often contagious and it opens people up, which is exactly what needs to happen if you're trying to form new relationships.