Leveraging the power of social media marketing can be an effective way to generate leads.
But surprisingly, a recent NAR study revealed that 29 percent of REALTORS® don't use social media for their business at all. One reason could be that coming up with ideas for real estate social media posts is often difficult and time consuming.
So here are some tips to ease your brainstorming, followed by 37 ideas you can return to for inspiration so you don't miss out on the many lead-engagement and networking opportunities that social media is designed to offer.
How To Come Up With Social Media Post Ideas Quickly
Thanks to these tips (and the dozens of ideas that follow), never again will you have to waste precious time staring at your phone, wondering what to post.
1. Plan Your Posts in Advance
Set aside time to focus specifically on coming up with new post ideas for the month. Even if it's just 10 minutes. Not only will planning enable you to avoid racking your brain for the best idea as you're also trying to work through the day's to-do list, but it will also help you be more strategic with your social media marketing in general.
Check out platforms like Hootsuite, Planoly or Later, for example, that make it easy to schedule and implement real estate social media marketing plans.
Pro Tip: Try to adhere to the 80/20 rule: 80 percent of your content and posts should offer your audience value, insights, or entertainment. And the remaining 20 percent should promote your business.
2. Recreate the Wheel
This is about working smarter, not harder.
Yes, it's important to stand out, but that doesn't mean you have to produce never-before-seen content from scratch 100% of the time. That's completely unnecessary, and it can be an enormous waste of energy.
So to come up with social media post topics quickly, be open to inspiration, repost, and "borrow" ideas so you can make them your own.
As long as you're saying it in a way that's fresh and unique to your brand and tailored to your specific audience, it's perfectly okay to repeat the same basic messages that others are posting. Not only is it okay, but it's actually smart – especially if it's a trending topic.
For example, here are some trustworthy Twitter accounts that can provide inspiration for your posts:
3. Sync Your Social Media Posts With Your Blog
If you already have a blog, use it as a source of content ideas – pull quippy quotes, share any infographics you might have, and promote your latest articles. (If you don't have a blog yet and you'd like to start one, here are some real estate blogging tips for beginners.)
There's a double advantage to this approach:
It increases efficiency because you can get two pieces of marketing content out of one.
Plus, it drives traffic to your website, where you'll have even more opportunities to increase engagement and convert leads into clients.
(Want to learn more? Watch a Market Leader webinar that walks you through how to create engaging real estate social media content.)
37 Ideas for Real Estate Social Media Posts
Without further ado, here are 37 evergreen ideas that you can use, modify, and recycle to keep your connections engaged and your social presence up to par.
Reviews & Testimonials
1. Congratulate a client on a recent sale or purchase.
2. Invite a colleague, past client, or family member to guest-post from your page.
3. Post a "Home of the Week" that highlights a client or home that you're currently working with.
4. Share a testimonial, review, or quote from a past client.
Tips & Advice
5. Talk about why it's a good time to buy or sell.
6. Promote one of your most popular blog posts.
7. Share a free resource, such as a guide to the home selling process.
8. Post advice on what NOT to buy and things to look out for (e.g., general household items, homes that have a certain problem, bad gift ideas, etc.)
News & Information
9. Call attention to a relevant housing market news article and offer your take on it.
10. Post a real estate infographic (e.g., what not to do when selling your home; the home buying process for first-time buyers; local market stats like median home price change).
11. Share local market updates.
12.Post about a community outreach event you're involved in.
13. Share local events for the family (e.g., farmers market, plays, concerts, seasonal events, etc.)
14. Share the latest in home technology trends.
Posts for Homeowners
15. Share a quick home-improvement tip or hack.
16. Recommend your favorite resources, products, or services for homeowners.
17. Post DIY decor tips and how-tos.
18. Share tips about how to keep energy bills down.
Ideas for Targeting Buyers
19. Invite your followers to an open house.
20. Share a home listing that's especially noteworthy.
21. Answer a common question you get from buyers. (E.g., "What is home equity?" "How do I choose the right lender?" "Is now a good time to buy a home?")
22. Show a picture of a recent home staging and ask for feedback.
23. Share pictures of your "dream house" (ideally a listing in your service area which you can link to on your site) and ask your followers about theirs.
Ideas for Targeting Sellers
24. Answer a common question you get from sellers. (E.g., "How can I learn the value of my home?" "How long will it take to sell my home?" "When is the best time to sell?")
25. Share ideas about staging a home (inside and out).
Just-for-fun Real Estate Social Media Posts
26. Share a funny (and harmless) meme and use it as a way to talk about a service you offer.
27. Have your followers vote on their favorite restaurant in your area.
28. Share a holiday gift guide.
29. Celebrate obscure and unofficial holidays (e.g., "National Cream Filled Donut Day," "National Hat Day," "Customer Service Day," etc.).
30. Share interior decorating ideas.
31. Ask fun and interesting questions to get your connections engaged in conversation. (E.g., "What are your favorite dog-friendly parks/places?" "If you could do anything to your home, what would you do?" "Would you rather…")
32. Ask a question – and ask for GIF responses only. (E.g., "How do you feel about the current housing market?" or "What was your most recent home-buying or home-selling experience like?")
33. Make a funny video about how much you love real estate.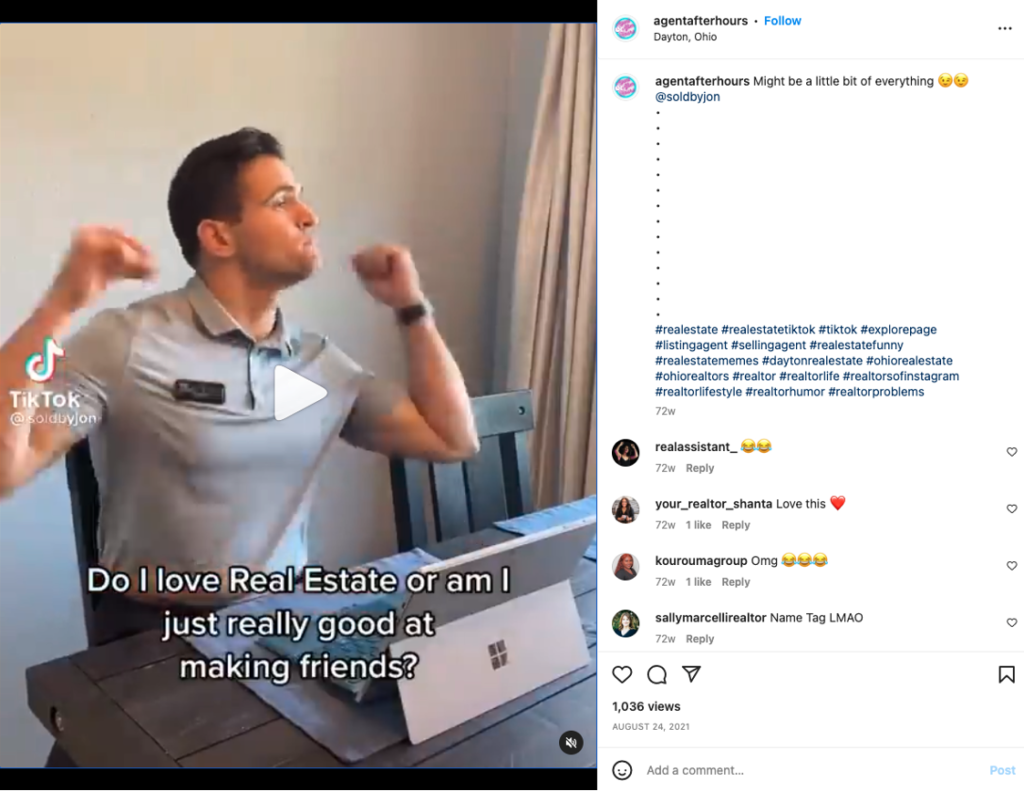 34. Post a "behind the scenes" photo of how you're helping your clients today.
35. Share a motivational quote.
36. Talk about what you're reading and ask for suggestions on what you should read next.
37. Share a real estate #FunFact, like this:
Master Social Media Marketing With This All-in-one System
Market Leader Pro is the leading all-in-one solution for generating more real estate leads and turning them into lifelong clients. It includes:
✅ Top-of-the-line marketing automation tools
✅ Marketing center with thousands of customizable print and email campaign templates
✅ Customizable website that you can link to from your social media channels
✅ Fully integrated CRM that's designed to help you maintain strong relationships
✅ Mobile app so you can decrease response times and increase efficiency while on the go
✅ Plus, Market Leader's team of advertising experts can generate a guaranteed minimum number of exclusive buyer and seller leads for you each month and have them automatically imported into your CRM.