Agent competition is stiff right now. NAR membership is at an all-time high, and inventory is near all-time lows.
That said, if you were wondering whether it's even worth your time to craft real estate slogans, the answer is 100 percent yes. Why? Because now is the time to do everything you can to stand out among the crowd of competitors so you can win more leads.
It might seem small, but your slogan (or "tagline") can actually be a valuable marketing tool that shows how you're unique. It can serve to reinforce your brand message, while also keeping you top of mind among your ideal clients.
There are plenty of articles and "generators" out there that throw out hundreds of poor-quality ideas for you to shuffle through. But if lead generation is your goal, that means the stakes are higher, making effective real estate agent slogans is a bit more challenging to create.
Don't worry – We've got you covered!
Not only will you get a strong-but-not-overwhelming list of ideas to glean inspiration from, but you'll also get a complete how-to guide so you can more easily craft your own. The result: a unique real estate slogan you're proud of that actually has the power to generate more leads.
The List: 51 Real Estate Slogans You Can Use as Inspiration
3 Bad Real Estate Slogans & the Lessons They Teach
How To Create Effective Real Estate Slogans
The 5 Most Common Types of Real Estate Slogans
The List: 51 Real Estate Slogans You Can Use as Inspiration
Coming up with slogan ideas should always start with a brainstorming session. (See Step 4 for more about that.)
(Quick Disclaimer: Before you run with any of the ideas found below, know that it's up to you to check the trademark status to ensure you're not copying someone else's slogan.)
Catchy Real Estate Slogans:
Always Open. Always Closing.
Discover Where You Belong
Settle Without Settling
The Buy-Low-Sell-High REALTOR®
The You-First Agent
Let's Dream Together
What If Your Happy Place Was Home?
Your Neighborhood Know-It-All
The Real Estate Heavyweight
Dwell Where Your Heart Is
The Happy Place Specialist
Make Home Your Getaway
Witty & Funny Slogan Ideas:
House-Hunt in Your Sweatpants
I'm Your Hero. (Zillow's the Zero.)
Find a Home as Big as Your Ego
The Buyer & Seller Matchmaker
If You Don't Like Where You Live, Move.
Where Those Who Want the Life of Luxury Are in Good Company
Part-Time REALTOR®. Full-Time Real Estate Magician.
You Can't Buy Happiness. (Unless You Buy Your Dream Home.)
Probably the Friendliest Real Estate Agent in the World
Sorry, I Can Only Help You Live Your Best Life
If I Had a PhD, It Would Be in Real Estate
Bold, Attention-grabbing Slogans:
Together, We'll Never Lose
The Dream Home Queen
Closing the Best Deals Is My Obsession
Relationships > Transactions
The Only Stress-Free Buying & Selling Experience
The Agent Who Doesn't Schmooze
Hi, I Help People Love Where They Live
Upgrade Your Homelife
Simplify It
Moving Magic
Real-life Examples:
"Client Focused. Results Driven." (Dolly Lenz)
"Expect Better" (Better Homes & Gardens Real Estate)
"Think Different" (Apple)
"Homes That Match" (RE/MAX)
"Belong Anywhere" (Airbnb)
"We Have a Place for Everyone" (Vrbo)
"Helping Beats Selling" (suggested by NAR & Wendy Cole)
"No Waste, Only Taste" (Ditto)
"Service. Knowledge. Results" (Fazendin Realtors)
"Taste the Feeling" (Coca-Cola)
"The World on Time" (FedEx)
"Dream. Search. Live." (Gilbert Gallegos)
"You're in Good Hands" (Allstate)
"Sell It Like Serhant" (Ryan Serhant)
"What's in Your Wallet?" (Capital One)
"Work Hard. Have Fun. Make History." (Amazon)
"Don't Leave Home Without It" (American Express)
"Fulfilling the Dream of Home Since 1906" (Coldwell Banker)
Before we dive into the how-to guide, let's learn what not to do by checking out some real estate slogans that are… less than ideal.
3 Bad Slogans & the Lessons They Teach
1. "Improving Lives, One Home at a Time"
The main problem with this slogan is that it's composed of clichés. How many businesses are "improving lives" these days? Probably too many to count.
And the formula that says, "one [whatever] at a time," is definitely overused. If your real estate slogan seems unoriginal, it suggests that your business is too.
What if you find yourself coming up with unoriginal ideas? That means it may be time to revisit your real estate marketing plan or to brush up on the best real estate farming tips so you can come up with more ideas that would be relevant and compelling for your target market.
2. "Find a New Home Where Your Heart Is Free To Roam"
If your slogan sounds like a Hallmark card, you're probably missing the point. The goal should be to generate buyer and seller leads, not to make them feel the warm-fuzzies.
Also, be careful with slogan ideas that rhyme. It often indicates that the "cheese factor" has been turned up to eleven.
3. "Forging New Horizons for a Tomorrow Without Boundaries"
This is too abstract. Your audience should not have to meditate on your slogan for it to make sense. It should be simple and easy to understand without a second thought.
How exactly does anyone "forge a new horizon," anyway? What is a "tomorrow without boundaries"? There are far too many metaphors happening here – in fact, it's entirely made up of metaphors!
Even if a potential lead is clever enough (or persistent enough!) to make sense of this slogan, it will still leave them wondering what any of it has to do with real estate.
Let's check out this step-by-step guide so your ideas don't end up on this list!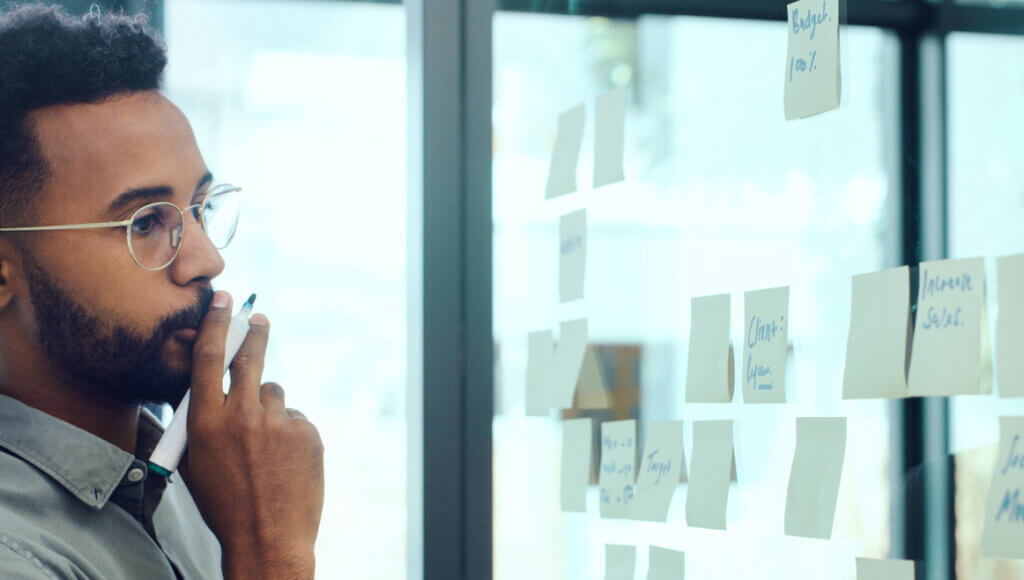 How To Create Effective Real Estate Slogans
There are five steps:
1. Understand Your Brand & Your Target Market
2. Analyze the Competition
3. Follow Best Practices
4. Brainstorm
5. Step Back & Revisit Your Favorites
Step 1: Understand Your Brand & Your Target Market
The first and most important place to start is with your "why." For your slogan to be effective, it must directly address your target market's needs, interests, desires, and concerns.
You need to have a clear understanding of your brand's values, mission, and unique selling proposition. Why? Because your slogan should be a concise reflection of all of these elements.
Don't worry if branding and marketing is all new for you. Get our "2023 Marketing Plan" which walks you through everything you need to know to start generating more leads.
Step 2: Analyze the Competition
Familiarize yourself with the other agents in your area and how they position their brand. Take note of any slogans they use so that you know what to avoid and so you can get a better idea of how you can differentiate your brand.
Step 3: Follow Best Practices
Keep it short – There's no rule about how long or short real estate slogans should be. Most are around five words long, but yours could be as succinct as two or as lengthy as 10.
Make it memorable – Remember, the purpose is not to convert leads into clients. It's to help you and your brand's message remain top of mind among your target market. Boring, unoriginal slogans are forgotten. So try to make yours catchy and clever.
Keep it simple – Don't overthink it. And don't force your audience to overthink it either. Go easy on the metaphors and be straightforward.
Step 4: Brainstorm
The most efficient way to conduct a slogan brainstorming session is to invite a small group of people to join you. That way, you'll have more creative energy to work with, which will result in higher quality ideas. Plus, it helps to say your ideas out loud and "bounce them off" the others in the group.
First, do what's referred to as a "brain dump" – write down every real estate slogan idea that comes to mind. Don't judge them yet. Simply get it all out, so to speak. See if you can reach 50 in one sitting.
Then, refine. Go through the list you just created and try to narrow it down to the top 10. From there, get even pickier and narrow it down to your top three favorite slogans.
If you're not happy with any of the ideas you came up with by this point, repeat those first two steps until you have a strong list of options.
For additional brainstorming help, check out the section below that lists the main types of real estate agent slogans.
Step 5: Step Back & Revisit Your Favorites
The reason you need to take a break and "sleep on it" is so you can critique your slogans with fresh eyes. If you go from brainstorming straight into the selection process, you may pick the best of the available options instead of remaining committed to discovering the actual best option.
Once you've landed on, say, three of your favorite slogans, test them out with friends and family members and get their feedback.
At that point, it'll be clear whether you've found the winner or whether you need to continue brainstorming.
The 5 Most Common Types of Real Estate Slogans
To aid with the ideation process, note that most real estate slogans can be categorized in the following ways.
1. Descriptive Slogans
A descriptive slogan describes precisely what a business does or offers. These slogans are often very compelling because they're simple, straightforward, and authentically human-to-human.
Examples:
"Eat Fresh" (Subway)
"The Ultimate Driving Machine" (BMW)
"We Help the World Grow the Food It Needs" (The Mosaic Company)
2. Emotive Slogans
An emotive slogan aims to evoke an emotional response from the audience. These slogans often use strong language and imagery to create a feeling or mood, which often makes the message extremely memorable.
Examples:
"Betcha Can't Eat Just One" (Lay's)
"Because You're Worth It" (L'Oréal Paris)
"Confidence in Motion" (Subaru)
3. Imperative Slogans
Imperative slogans use vivid action-oriented language that compels the audience to do something, think a certain way, or feel a specific emotion.
Examples:
"Just Do It" (Nike)
"Save Money. Live Better." (Walmart)
"Have It Your Way." (Burger King)
4. Provocative Slogans
Provocative slogans are designed to be somewhat controversial by challenging the audience's thinking. These slogans can be risky, but they can also be highly effective in catching attention and creating a buzz.
Examples:
"Strong enough for a man, but made for a woman" (Secret)
"Lawyers you'll swear by. Not at." (Harris Beach)
"Impossible Is Nothing" (Adidas)
5. Playful Slogans
This last type of real estate slogan doesn't end with the "-tive" suffix like the others. And in a sense, that's fitting. Because that's precisely the point.
For some companies, the best way to communicate their brand message is to have fun and create a comical, imperfect, or seemingly unrelated slogan.
Examples:
"Eat Mor Chikin" (Chick-fil-A)
"So Easy, a Caveman Can Do It" (Geico)
"Snap, Crackle, and Pop!" (Rice Krispies)
Get Your 2023 Marketing Plan Today!
Your business won't magically grow on its own. You'll need a marketing plan to generate more leads in 2023—that's the first step to getting more clients and increasing your commission income.
Download our 2023 marketing planning guide today to get all of this and more:
A marketing toolkit & social media cheatsheet
Tips & worksheets for building your brand
4 marketing musts for 2023
How to create a unique value proposition
Submit your email address below to have the "2023 Marketing Plan" sent to your inbox!