For some high-pressure situations in real estate, it's best to relax and rely on your instincts and experience to carry you through to success.
This is not one of those situations.
The listing presentation is extremely important, and mastery of it doesn't come naturally. Whether you're a newer agent or whether you're struggling to close listing appointments as consistently as you'd like, it's always a good idea to brush up on best practices.
Read on to get how-tos for the before, during, and after – including how to prepare, how to conduct the flow of your listing presentation, scripts for handling objections, and more.
What's the Point of a Listing Presentation?
How To Prepare
How To Nail the Listing Presentation Appointment
The Do's and Don'ts for Conducting a Compelling Listing Presentation
4 Common Objections & Scripts for Handling Them
Next Steps
What's the Point of a Real Estate Listing Presentation?
A listing presentation is a formal meeting between a real estate agent and a potential seller during which the agent presents their services, expertise, research, and marketing plan to sell the property. The main purpose is to persuade the seller to choose you to be their agent.
Ultimately, the goal is to secure the listing by getting them to sign the listing contract, which officially begins the process of marketing and selling the property. But this initial meeting is also your opportunity to establish a strong relationship with the seller and to gain their trust.
How To Prepare
First of all – yes, you need to prepare for your listing presentations! It boosts your confidence and helps you overcome any anxiety you might be feeling about it.
Real estate coach Craig Proctor suggests that a good listing presentation is like a good book. It should "tell a story" with a "beginning, middle and end." So plan your "story," and rehearse your main points.
To be more practical, here are some good ways to prepare.
Ask Lots of Good Questions During the Initial Call
Have a go-to list that includes questions such as the following:
How did you hear about me? (Or, Who referred me to you?)
Why are you selling?
When do you need to sell?
Do you have a price in mind?
What can you tell me about your home? Any renovations, additions, major repairs?
What makes your home stand out from your neighbors' homes?
How long have you lived here?
Where did you move from?
When are you planning on moving?
Would it be possible for all decision-makers to be present to meet with me?
Learn About the Property
Your next step after that initial call and setting up a listing presentation appointment is to visit every home in the seller's area that's currently on the market.
Try to tour them in person if you can, and at least do a drive-by of the sold listings you'll be using as comps. The point is, get familiar not just with the seller's home but also with the entire area.
Take the approach of leading luxury agent David Kean (Teles Properties, Beverly Hills) as inspiration. He said, "I go through every house that comes on the market so that I'm not just looking at comps on paper. I have actually been through each house, and I know the layout; I know if there's a telephone pole blocking the view."
Don't Procrastinate
Don't wait until the last minute to prepare your listing presentations. That's a recipe for disaster.
Give yourself time to ensure that all your figures are correct, that your listing presentation is professional, and that it shows off your marketing acumen so well that potential clients won't be able to even fathom listing with anyone else.
Put a Pre-listing Packet Together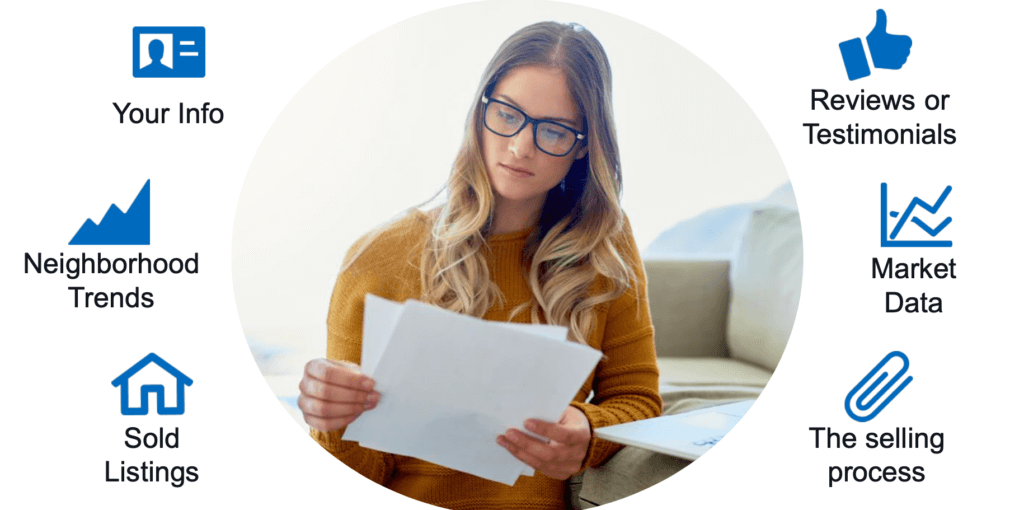 A pre-listing packet is an informational package that a real estate agent provides to potential clients. You'd typically deliver it to them (as a hard copy or an emailed PDF) after you've scheduled the listing presentation but before the day-of. Here's why this is a good idea:
It's a great way to introduce potential clients to you and your brand.
It showcases your expertise and the value you're bringing to the table.
It preemptively addresses any concerns they might have about selling.
It sets you up to establish a sense of connection with them during the listing presentation.
It gets them thinking and prompts questions you can help answer during the meeting.
The purpose is to help the potential client understand the selling process and make informed decisions – both about selling and about hiring you as their agent. So for example, your packet might look like this:
Introduction (a bit about who you are, your values, your experience, your brand message, etc.)
Testimonials, reviews, client stories, etc.
High-level overview of the local housing market
Simple step-by-step of the home-selling process
Your contact information
Use a Listing Presentation Template
Working off of a listing presentation template saves time, sparks creative inspiration, and prevents you from having to start from scratch each time.
Canva, for example, has many real estate listing presentation templates to choose from.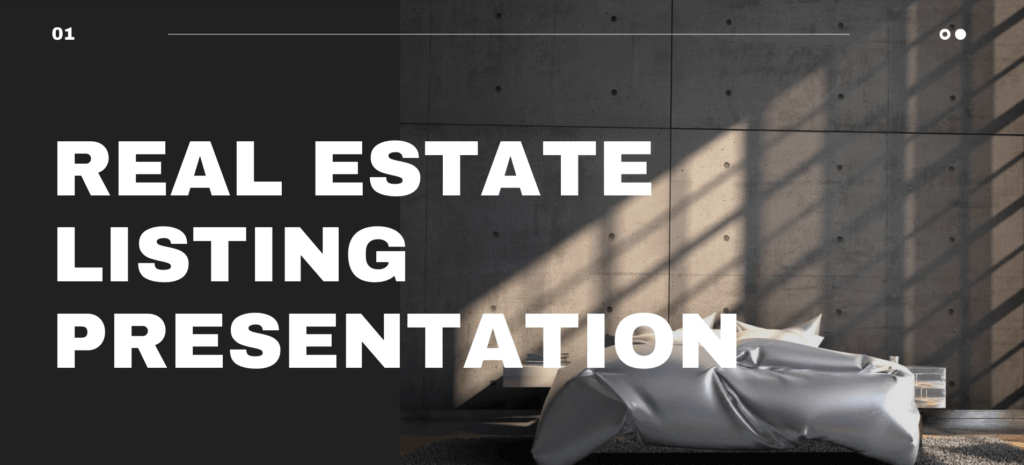 How To Nail the Listing Presentation Appointment
Remember – this isn't a TED Talk. Yes, this is your listing presentation, but this meeting is also about establishing a relational connection. And that means there's a bit of finesse required.
The flow of your appointment might go like this, for example:
Get comfortable – handshakes, small talk, finding a place to sit, etc.
Offer a quick overview of how the meeting will go.
Go through "part one" of the listing presentation.
Tour the home.
Go through "part two" of the listing presentation.
Closing (signing the listing contract)
Let's take a closer look at each of these parts.
Get Comfortable
Don't rush it. Rather than jumping straight into your spiel, take a moment to get acquainted. Get a feel for how they feel about selling and what actions they've taken so far (obviously, besides setting up this meeting with you).
Any of the questions that weren't clarified during the initial call should be clarified now. While you're at it, ask if they have any questions about the pre-listing packet you delivered.
As they respond, don't rattle off your answers or overload them with information. Instead, demonstrate that you genuinely care about their questions by listening and listening closely. Reassure them that any questions that aren't answered at this point will get answered along the way.
Provide a Simple Overview
Keep in mind that much of the content you'll be sharing will be completely new to your prospective client.
There will be a lot of information for them to keep up with! Provide a kind of "roadmap" or a rundown of how the meeting will go so they know what's coming.
Go Through "Part 1" of Your Listing Presentation
Start by laying the foundation. Reassure them that you're trustworthy, you're on their side, and you've paid attention to what they've said: State back to them what you know about their motivations, desires, needs, interests, and concerns.
Then get into the content of your listing presentation:
Explain the home-selling process.
Share current market trends and any useful insights you have about buying and selling in the local area.
Summarize your typical marketing strategy – no need to go too far in detail at this point. (You'll discuss the specifics in "Part 2.")
Q & A – Check in to see how they feel so far and whether they have any questions.
Tour the Property
Touring the property at this point is a good idea because it sets you up to talk about pricing and the comparable homes. Plus, it'll be nice to get up and walk around and get a break from the information-sharing.
Make sure you see it all – every room in the house, as well as the entire exterior.
Go Through "Part 2" of Your Listing Presentation
Most of what you'll have covered in the first part is generalized (the market, for example, and your overall strategy and approach to real estate). But now it's time to get specific and discuss the details of this particular listing.
Here are the four things every seller wants to know:
1. How much is my home worth?
2. How much will you list my home for?
3. What's the estimated sale price?
4. What will we do to get the property sold?
5. How long will it take to sell?
So be sure the content of this part of your listing presentation addresses those five questions. Include the following:
Size up the competition using a comparative market analysis (CMA). Learn everything you need to know about producing a CMA in real estate!
Show them the listings of similar homes so that they can get an idea of what the ideal buyer will also be seeing in addition to their listing.
Explain your pricing strategy (in detail) in a simple, digestible way.
Share the marketing plan you've come up with for this listing.
Q & A time again – Make sure everything you've shared is crystal clear. Again, listen closely. Let them share their perspective and pay close attention to how they're feeling about what you've shared so you can know how to lead them closer to choosing you to be their listing agent.
Now for the moment you've been waiting for…
The Close: Asking for the Signature
Some discernment is required at this point. Depending on how your listing presentation has gone so far, you may or may not decide to proceed to the closing question and next steps. In some cases, it may be best to schedule a follow-up meeting to discuss things further.
Assuming all has gone according to plan, ask the all-important question. Here are some examples of ways you could make your move toward getting the listing contract signed:
"Would you like to get started?"
"Would you like to get your home on the market now?"
"When are you going to be ready for me to take pictures and put the sign in the yard so we can start getting buyers to your home?"
However the question comes out for you, the next thing you do should always be the same: zip your lips! Give them a chance to consider and respond.
If they're ready to go, great!
But what if they say some version of "No"? Then ask, "What are your concerns?" and be quiet again.
After giving them plenty of time to talk, put your objection handling techniques to work. (Read on for details about that!)

The Do's and Don'ts for Conducting a Compelling Listing Presentation
Get these best practices right and you'll be well on your way to having a successful real estate listing presentation from start to finish.
Do the Basics
While you're covering all of the complicated ins and outs, make sure you don't overlook the easy stuff.
Call ahead and confirm that all homeowners will be there. It'll likely be a waste of your time if a spouse isn't there, for example.
Dress the part. "Business casual" is usually the safest option – not too formal and nothing shabby. A good rule of thumb is to wear something similar to what you could reasonably assume they'll be wearing.
Arrive on time. This is basically a job interview, remember?
Assume the Close
Having the right mindset – a positive mindset – is essential to your success. It's a confidence-booster for both you and your potential client.
One way to ooze contagious confidence is to assume the close. For example, ask questions such as…
Would you like some tips on how to prepare your home for the market, or do you want to sell it as-is?
Do you want me to hold an open house, just a broker's open, or both?
Would you like a flyer box on the yard sign, or just the sign?
Without realizing, they'll be right there with you, and all that's left to do is sign the papers to make it official.
Practice "Active Listening"
In other words, actually hear what they're saying and respond accordingly – instead of always being a step ahead, thinking about what you're going to say next, and talking over them.
Another great way to demonstrate that you're truly listening is to take notes. Whether you truly need to remember what the homeowner is telling you or not, asking questions and then taking notes while they answer shows that you value what they have to say.
Don't Be Vanilla
Provide value. Give them information and resources that they actually want and need.
Fill your presentation with character. Everything in your presentation should be customized to this particular seller and this particular home. Leave the generics to the agents you're competing against. Don't skimp on colors, graphics, and high-quality photos. Show – don't tell – the sellers that you are the consummate marketer.
Establish a relationship. As you walk through the home, try to create a common bond by finding shared interests based on style, pictures, and passions.
Don't Forget About the Non-Verbal Stuff
As the saying goes, "actions speak louder than words."
Make eye contact.
Show you're listening by matching their posture and body language. (For example, if they sit back and relax in their chair as they're talking, you do the same.)
Be mindful of your rate, pitch, and volume of speech. Again, try to match the way they speak to you.
Repeat and rephrase certain keywords they use frequently. (For example, if they often talk about the way they "feel," use that word back to them as you share your ideas.)
4 Common Objections & Scripts for Handling Them
1. "I'm worried that we won't be able to buy a house we like in the time it takes to sell our current house."
"I definitely understand that. But listen, this is a situation I encounter all the time. I'm confident we can find a way to get your home listed, get it in the sale escrow, and coordinate the closing of your purchase so that you'll be able to move."There are several ways to do it. For example, we can do a concurrent close, or I can arrange a rent-back on your property so you can stay in your home now until the escrow on your purchase closes. In any case, know that this is a very, very common concern and question and one I deal with very successfully all the time."
2. "Why should we list with you, instead of [your competitors]?"
"My mission is simple: [share your mission statement]. I have [x] years of experience delivering on that, and it has paid off. In that time, I've sold $[x] worth of real estate, and I've helped [x] families find their new home. Right now, I have [x] of current and past clients in my database."Setting my experience aside, though, [share a bit about your brand values]. Ultimately, that's what keeps me going, and honestly, it's why I'm sitting here with you today. [Competitor] simply can't offer the same level of expertise and [your other unique qualities]."
3. "The max commission we'll pay is [much lower than what you're asking]."
"I'd be concerned about the same thing if I were you – I'm all about getting the biggest bang for my buck! Unfortunately, I can't reduce my commission. [x] percent is what I charge all of my clients."I can assure you that I work harder than anyone else you'll meet. I'm well aware of what that's worth, and after we get your house sold for the highest market value and get you into your dream home, you will too."
4. "The reason we're selling is because we want to buy another home. But we can't until we sell this home first. How do you help us handle that?"
"Completing the entire sales process before buying sometimes seems like the risk-free approach. But there are actually two major drawbacks you should be aware of."One, waiting to sell could mean you'll end up moving twice, which may involve renting or finding a place to stay and putting your things in storage. And two, in this market, the house you'd want to buy likely won't wait for you to complete the sale.
"Instead, I'd recommend having both processes going simultaneously. It's common practice, actually. That way, you'll be able to make an offer as soon as you find your dream home, and the moving process will be much smoother.
"I'd be happy to guide you through that. We wouldn't place an offer on a home until we've accepted the best offer for this home. We can provide for what's called a concurrent close, or we can get you a rent-back so you can continue living here while the buying process comes to a close."
Steps To Take After Successful Listing Presentations
Remember, communication is key. Keep your new client updated and informed throughout the entire process. Be available to answer any questions they may have and address any issues that arise.
Start with a "thank you" note. A quick email or text message should suffice.
Then, schedule a follow-up call or meeting. This is also a great opportunity to discuss next steps, gather what you need to write a killer listing description, and establish a timeline for the sale process.
Use your real estate CRM to set them up to receive high quality automated newsletters, listing alerts (if they also plan to buy), and/or a welcome email campaign. All of which should deepen their understanding of your brand and lead them farther down the path of engagement.