Pictures can say a thousand words, but they can't say everything. At some point, the power of language has to take over.
The best real estate listing description examples you can find will all have one thing in common: they'll all have compelling marketing copy that was crafted to sell, not just describe.
If you've been overlooking the sales power of copy in your listing descriptions, welcome. You're not the only one. Mediocre (if not flat out poor) descriptions are the norm. And that's unfortunate. Because listing descriptions are extremely important.
Consumers are now more likely to search online for a home than ever before. According to a recent report from NAR, "Among all generations of home buyers, the first step taken in the home search process was to look online for properties."
Half of all buyers they surveyed (51%) said they found the home they purchased online. (Which is almost double the amount of those who said they found their home through their agent, by the way.)
The point is, real estate listing descriptions matter. They may even matter a lot, especially if they're done well.
And the best part is, it's not as if you have to spend a ton of time mastering the art and science of copywriting. All it takes to boost the selling power of your listing descriptions is a bit of know-how and some practice.
This article will walk you through exactly how to write descriptions that sell (and how not to write them). Then we'll take a look at four real estate listing description examples from top-notch agents so you can see how it's done.
How To Write a Real Estate Listing Description
Here are some best practices to keep in mind as you supercharge your listings with compelling marketing copy.
Start With the Seller
As the agent, you can put pieces together and come up with some ideas about what you should highlight in the description. But the seller has a unique perspective on the home, and they know better than you do what it's like to live there day to day. They'll almost certainly raise excellent selling points that never would have occurred to you unless you had asked.
Find out what it was that originally caught their attention when they bought. What do they love about it? What will they miss when they sell?
Their favorite things about the home are likely to be the same things that will attract potential buyers. So before you work your marketing magic, get inspiration straight from the sellers themselves.
Write to Your Audience
In other words, don't write listing descriptions that only sound good to you and your client. Let it all revolve around potential buyers (and their agent).
Listing agents are, above all else, marketers. And marketers always determine a target buyer for their products before coming up with a plan.
We don't see urban streetwear companies appealing to Gen X or Baby Boomers. Millennials aren't likely to get targeted online ads from AARP. Yet the average listing description is a lot like the average real estate agent – trying to be all things to all people. That has never worked before, and it won't work for you.
So before you write a word, put yourself in your prospects' shoes. What will they want to hear? What are the kinds of things they'll be looking for? Write their dream home into your copy.
What objections or fears might they have? Cut them off at the pass and address concerns head-on. Do they think it's unaffordable? Talk about how easy financing can be.
Is it a family home with a large backyard and schools nearby? Speak directly to the parents. Is it a swanky uptown condo that looks like a status symbol? Speak to that millionaire entrepreneur looking for a home that doubles as an accessory.
Your listing descriptions need a personal flair that cater to the home buyers you're trying to reach. Play into their vision, and make it clear that your listing is exactly what they're looking for.
Craft a Killer Headline
The amazing listing description you labored to create is worthless if no one reads it. And the best way to get potential buyers to read your description is to write a headline they can't ignore, a headline that captures their attention and sets the tone for the entire listing.
The main purpose of the headline is to get them to read the first line of your description. And the main purpose of that first line is to get them to read your second line, and on and on it goes.
If you spent as much time crafting the headline as you did writing the description, it would be time well spent.
Think Like a Copywriter
When you're writing real estate listing descriptions, you're writing to sell. At its core, what you're doing here is no different than what legendary advertising experts like David Ogilvy did for decades.
So don't approach this task as a real estate agent filling in the blank on a form that says "Description". Approach it as if you were Mad Men's Don Draper penning irresistible marketing copy that turns heads and closes deals.
To make your "adman" impersonation believable, here are some quick-and-dirty tips for writing like a copywriter.
Lead with the benefits. Then move to the features. In other words, talk first about how the home will benefit the buyer, what problems it may solve for them, and why all of that matters. Then get into the specs and nitty-gritty details.
Write like a human. Studies have proven over and over that simple, person-to-person writing is most effective. So say what you mean and keep it conversational. Read it out loud to test yourself – if it sounds like normal human speech, you're on the right track!
Be concise. Less is (often) more when it comes to writing marketing copy. Use powerful words that pack a punch instead of frivolous adverbs.
Create a sense of urgency. Buyers know homes don't stay on the market for long. Give them that extra nudge they need to take action now by creating a sense of urgency.
"Show, don't tell." Guide their daydreaming and create mental images. Why list the dimensions of the kitchen when you could say, "You can cook for 2 or 20 in this spacious, guest-friendly kitchen." Instead of stating flatly that the ceilings are made of plaster, mention that they could "entertain beneath soaring Venetian plaster ceilings."
Don't Do This When You Write Listing Descriptions
Now you know how to write real estate listing descriptions. But here's what not to do.
Don't overthink it. Yes, your listing descriptions are important. But the stakes aren't so high that you need to spend hours and hours crafting a perfect piece. Why? First, because it'll take you way too long to write. And also because your writing will show that you overthought it, which will make it less effective.
Don't use clever or flowery language. Write plainly. This isn't a novel. The words themselves shouldn't steal the spotlight. Yes, think creatively, but don't distract the prospect with pretty prose. It's counterproductive and misses the point completely.
Don't repeat information. Space is valuable. Don't waste it by repeating all of the details that show up in the listing details. Describe the property in a way that doesn't tell them what they already know (e.g., lot size, year built, etc.).
There are more blunders to avoid. Learn about the five cringe-worthy mistakes experienced agents make on their listings.
4 Creative Real Estate Listing Description Examples
Glean wisdom from these four noteworthy listing description examples from expert real estate agents and let the inspiration begin.
1. Evoke Settings & Scenes
This first listing description example does a great job of using language to create mental images. For example, we imagine waking up in the loft suite, hosting a big party out on the deck, and huddling around the fire pit. Framing your listing descriptions in this way gets your prospects to "read between the lines" and see in their mind's eye more than what appears in the copy. (Plus, this listing gets extra credit for ending with that perfect call to action!)
Well done, Aubie Pouncey!
2. Pile Up All the Perks
Notice how this listing description example heaps on the goodness. Just when you think it couldn't get any better, it does. We learn immediately that it's "better than new" in that fantastic opening line. As we read on, we hear about upgrade after upgrade, with the excitement-building repetition of the word "new". By the end, it sets the prospect up to feel like the decision to make a move on this house is a no-brainer. Numerous renovations, great floor plan, "dramatic two story entry," private yard, fantastic location… What more could you want!?
Thanks for showing us how it's done, Elizabeth Avery!
3. Show Authentic Enthusiasm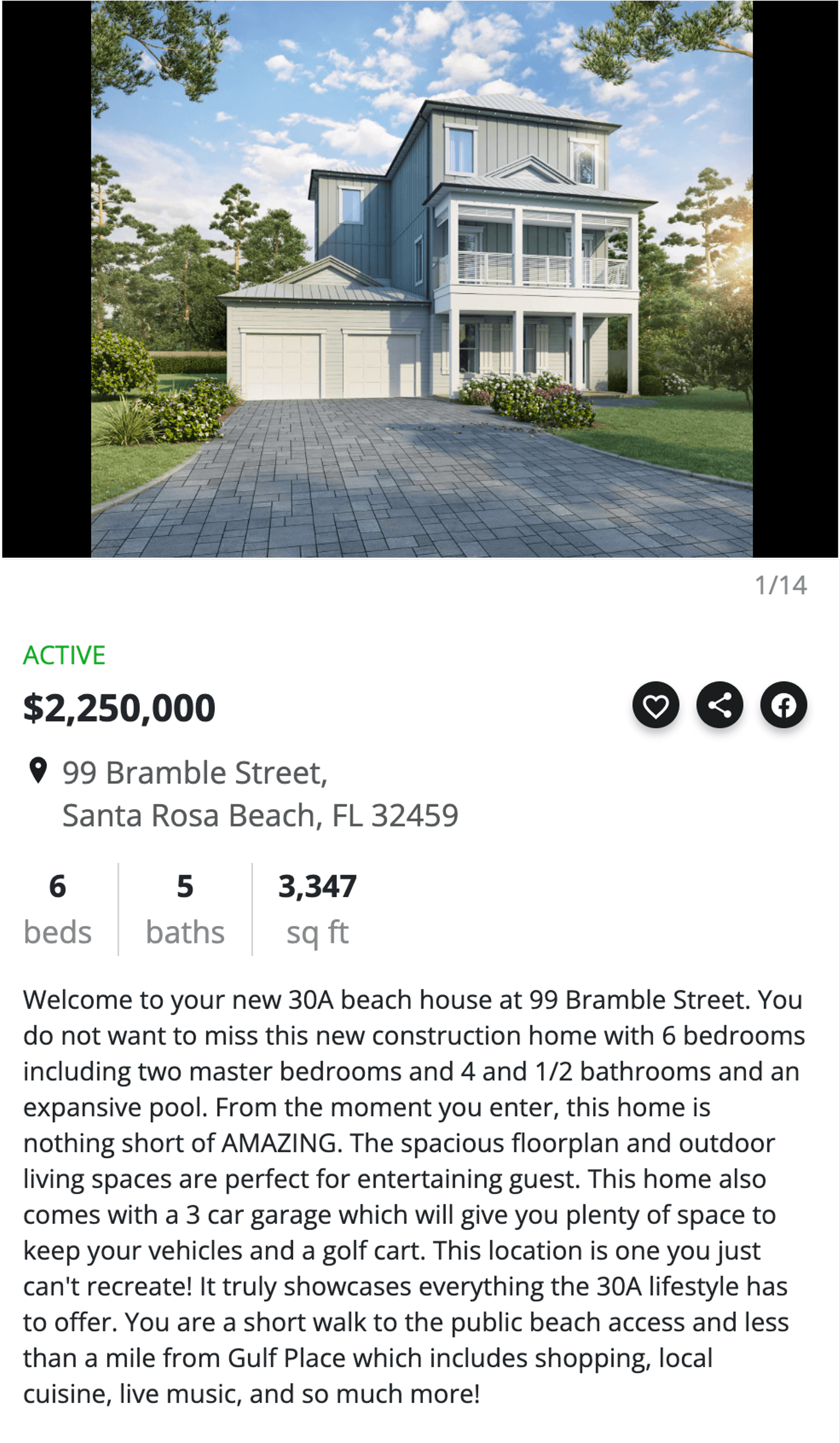 The excitement is palpable. And yet, it doesn't come across as contrived or cheesy. This home's apparent uniqueness speaks for itself, and the copy in this third listing description example does a great job of emphasizing that fact. It leaves the reader feeling as if they just have to see it to believe it. It's hard not to feel joyful when you read things like, "this home is nothing short of AMAZING," and, "This location is one you just can't recreate!" And as a side note, who doesn't want to work with an agent with that kind of contagious energy!?
We can feel your beachside happiness all the way from here, Peggy Rowe!
4. Speak to the Heart of Your Audience With Laser-like Focus
This final home listing description example demonstrates why it's so important to understand your audience. If you have a thorough understanding of who your potential buyers are, what they care about, and what their pain points are, you'll know exactly how to capture their hearts with your listing description. This example has a very clear target (buyers interested in downsizing; buyers who have prioritized convenience and simplicity; buyers looking for a vacation home, seasonal home, or a home they can feel comfortable leaving behind when they travel). And the entire listing description is centered on meeting their needs and addressing their concerns.
Thank you, Polly Blackwell! You nailed it.
Want Your Listing Descriptions To Look Like These Examples?
All of the examples above came from Market Leader clients. So if you want your real estate listing descriptions to look similar, the powerful, highly-customizable website included with Market Leader Pro is a good place to start.
It's the all-in-one solution you need to generate leads and turn them into lifelong clients.
Customizable website

MLS integration

Robust CRM

Marketing automation