Many agents take it for granted now, but having the ability to e-sign real estate contracts is a gift that offers serious advantages.
Consumers may see it as a mere convenience. But for agents, the value of e-signature technology is far greater than that.
It saves time, increases productivity, and accelerates the path to closing. These are all things that have a direct impact on your commission income.
Thankfully, gone are the days when a paperwork snafu can disrupt a good deal… right?
Almost.
Not all real estate e-sign vendors are alike. Choosing the wrong one can make the process of collecting signatures clunky, inconvenient, and worst of all, costly.
Must-Have Features for E-Signing Real Estate Contracts
It was July 25, 2000 when the first paperless transaction was completed using only electronic signatures. Needless to say, much has changed since then.
There's now an array of vendors to choose from and a wide range of features to consider when shopping for the best way to e-sign real estate contracts. You know you need "the best," but it can be difficult to know what that means.
So here's a handy checklist of "must-have" features to look for:
Compliance – It's crucial to protect client data and to make sure you'll meet all legal standards. So be on the lookout for an e-sign platform that prioritizes security compliance with all federal and state regulatory bodies. It's one thing to allow a user to "paste" a signature on a document. But it's quite another thing to maintain a digital chain of custody (with verification steps along the way) to ensure that the validity of any signature can withstand a vigorous challenge in court.
User-friendliness – It should be easy to provide an electronic signature for real estate contracts, not just for you but also for your clients. So as you're considering all of the "bells and whistles" each vendor offers, don't miss this important point. Making the transaction process quicker, smoother, and simpler is what this is all about.
Integrations & Compatibility – Chances are, you already have a long list of tools you use every day. Ideally, all of your tools should all work together so you can streamline your workflows. The best e-signature systems are compatible with other apps and platforms, such as Microsoft and your real estate CRM, for example.
5 Best E-Sign Platforms for Real Estate Agents
Here's the part where you discover the e-signature software provider that's right for you and your business. Check out this list of the best platforms so you can e-sign real estate contracts like a top-performer.
Constellation1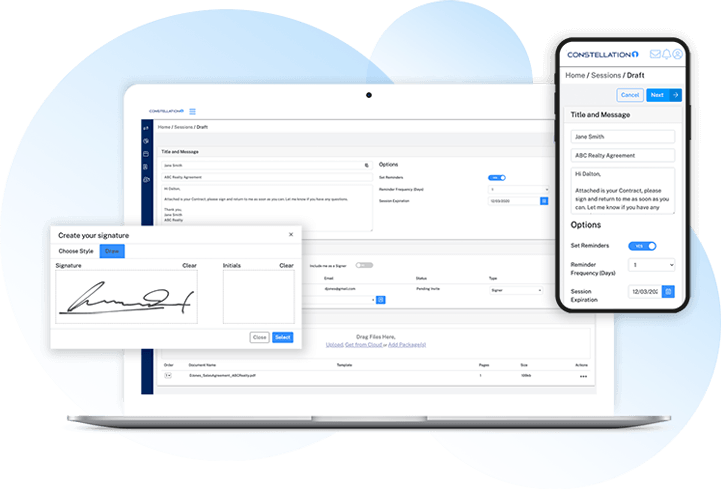 At a Glance: Constellation1's eSign functionality offers a simple, user-friendly interface and allows all parties to securely access documents from any device at any time. Also you can quickly create documents with an easy-to-use wizard and send them via email, which can be signed from any computer, anywhere.
Cost: The individual plan is $180 per year, and includes the rest of Constellation1's powerful features for running your front and back office.
Adobe's Acrobat Sign
At a Glance: Adobe is a trusted brand known for its many top-of-the-line software products. With Acrobat Sign, not only is it easy to collect signatures quickly, but it also allows you to track and manage your documents in bulk so organization is never an issue. Plus, you can customize the e-signature request emails to your client and other parties so they meet your brand standards.
Cost: Individual plans start at $12.99 per month.
DocuSign
At a Glance: DocuSign is among the most frequently-used digital signature providers in the real estate industry. It offers a simple, easy-to-use, "contract lifecycle management" platform where you can send and e-sign real estate contracts all from one place.
Cost: The "Real Estate Starter" plan is $10 per month. But if you're an NAR member, you get the best deal – the "NAR Member Exclusive" plan is $20 per month and offers the most extensive list of features.
Digital Ink (zipForm Plus)
At a Glance: Like all of their many software products, Lone Wolf's zipForm Plus platform is designed specifically to help real estate professionals by automating and streamlining the transaction process to make closing less challenging and time intensive. However, the poor user experience frustrates a lot of agents – and their clients – due to required sign-ins, confusing navigation, and email notifications often failing to get delivered to the people whose signatures are needed.
Cost: Sign up for details.
Dotloop
At a Glance: Dotloop "empowers agents with a complete real estate transaction management software that provides eSignatures, forms, sharing, text tracking, storage and more." In other words, you don't have to "prepare contracts, move them over to a different system for eSignatures and finally upload them into yet another platform for compliance," because you can do it all in the same system.
If privacy is important to you and your clients, Dotloop isn't the right choice. Because Zillow owns Dotloop, transaction data is automatically shared with Zillow to improve the accuracy of its Zestimates and update listings as "pending" and "sold" based on the status of deals within this e-sign software.
Cost: The plan for individual agents is $31.99 per month.
E-Signing Real Estate Contracts: How It Works
Collecting signatures doesn't top any agent's favorites list. Purchase agreements and closings seem to be getting more complicated every year. And with each additional layer of mandatory disclosures, regulations, and title assurances, it's getting easier for agents and consumers to miss a signature here or an initial there.
In the past, this meant that real estate agents wound up having to spend precious prospecting time driving across town to track clients down, or spending money to reprepare and resend documents via snail mail.
But thanks to the many technological advances that have been made over the last two decades, the process can be much smoother.
Now you can simply put the client's document together, enter their email address, and click "send."
From there, your client will see a notification pop up in their email which sends them to a PDF version of the document. Depending on the software program you use, each signature and initial field will be flagged in some way so they can easily see where they need to sign.
For added security, many programs also require PIN number access and additional verification for each signer's identity and to create an audit trail for every signature.
Once it's all filled out, they hit "send," which automatically puts the completed document into your inbox.
No licking stamps. No filling out FedEx envelopes. And no driving all over town to get that missing signature.
Most e-sign tools also provide automatic notifications for all parties when additional signatures are secured. They can even integrate the e-signature program with standard workflow programs – minimizing potential for errors and giving brokers and team leaders the opportunity to monitor in-progress documents as they move toward completion.
FAQ
What Is an E-Signature in Real Estate?
Electronic signatures in real estate, often referred to as e-signatures, are digital versions of traditional hand signatures. They're used to sign documents in a secure and legally binding way. Instead of physically signing a piece of paper, you sign electronically using a device like a computer or a tablet.
Can You Use DocuSign for Real Estate?
Yes, absolutely! DocuSign is a popular platform for electronic signatures in real estate. It allows parties involved in a real estate transaction to sign documents electronically, streamlining the process and reducing the need for physical paperwork. DocuSign ensures the security and legality of these electronic signatures.
Can an Electronic Signature Be Accepted as Part of a Real Estate Contract?
Yes, an electronic signature can be fully accepted and legally binding in a real estate contract. In fact, many countries and states have passed laws recognizing the validity of electronic signatures. As long as certain requirements are met, such as proper identification and consent of the parties involved, an electronic signature holds the same weight as a pen-and-paper signature.
What Are the Rules for Electronic Signature in Real Estate?
The rules for electronic signatures in real estate vary depending on your location, but some general guidelines apply:
Consent: All partis involved must consent to the use of electronic signatures. This can often be done explicitly or through implied actions.
Security Measures: The platform used for electronic signatures, such as DocuSign, must employ security measures to ensure the integrity of the signature and the document.
Audit Trails: There should be a clear audit trail that records the process of obtaining electronic signatures. This helps in verifying the authenticity of the signatures.
Legal Recognition: Check the laws and regulations in your jurisdiction to ensure that electronic signatures are legally recognized in real estate transactions.
Remember, always consult with legal professionals or authorities in your area to ensure you are in compliance with specific regulations regarding electronic signatures in a real estate context.