"And how long have you lived at this address?" Even those of us who are no longer active in day-to-day real estate cold calling recognize and probably remember, verbatim, Mike Ferry's cold-calling scripts and best practices.
It's when you would hit, "If you were to move, where would you go next? And, when would that be?" that the conversation started to get real. THAT is when the whole thing came together and either worked or didn't, right? Much of the time, it did work.
But, it didn't make it any easier to pick up the phone every morning. Making it harder, still, are the many online articles that claim cold-calling is "dead," a "waste of time," or an "intrusive and inefficient way of doing business."
For some, those would be all the excuses needed to back away from the phone. And, these writers have a point, to some extent. But the truth is, cold calling isn't anymore dead than postcard marketing or door-knocking. Thousands of agents across the country fill their pipelines – and their bank accounts – by picking up the phone every morning and dialing for dollars.
Cold calling is intrusive; there's no getting around that.
With more than 226 million phone numbers registered on the government's Do Not Call Registry, it can be inefficient as well. The law requires telemarketers to search the registry every 31 days. If you call numbers on the registry, you could face a fine of up to $40,000 for each call, according to the Federal Trade Commission.
As despised as cold calling may be by both the caller and the recipient, there are best practices that will help make it less of a chore and more of a money-generating tool.
First, understand the law
In a nutshell, you must restrict your calls to hours between 8 a.m. and 9 p.m.
Immediately tell whomever answers who you are and the name of your company.
Avoid lying (we know you don't lie, but it's part of the law).
Don't block your phone number from the recipient's caller I.D.
Set a realistic daily goal
Aiming for 500 cold calls a day is admirable, but it's also a recipe for burnout.
First, figure out your financial goals, then determine how many calls you'll need to make to reach that goal.
Suppose you want to earn $75,000 this year in commissions and you're on a 10 percent split with your broker. This means you'll need to close slightly less than $2.8 million worth of real estate sales.
If the average sale price of a home in your area is $285,000 (an approximation of latest average sale price in the country as of this writing). You'll need to close 10 deals a year to reach (and slightly exceed) your commission goal.
Our Lead Calculator will easily help you break down what your leads and transaction goals should be to reach your specific commission goals.
This is where investing in your CRM pays off. Analyze the data it contains to determine how many contacts it took you to generate closed deals last year.
One study showed that 208 calls yielded either an appointment or referral, according to Bernice Ross, for Inman.com. She goes on to calculate further that if you can achieve a call rate of 50 per hour, it will take about six hours to get an appointment.
And, according to Ross, "Anecdotal evidence of the conversion rate suggests a 2-to-1 appointment-listing ratio. That means for every 12 hours of calls, an agent can expect to achieve one listing."
If successful, you could be making $641.25 an hour.
What time of day should you call?
The same study suggests that calling between 10 a.m. and 2 p.m. yields the best results, with conversion rates that perform 42 percent better than calls made before 10 a.m. and 300 percent better than calls made after 5 p.m.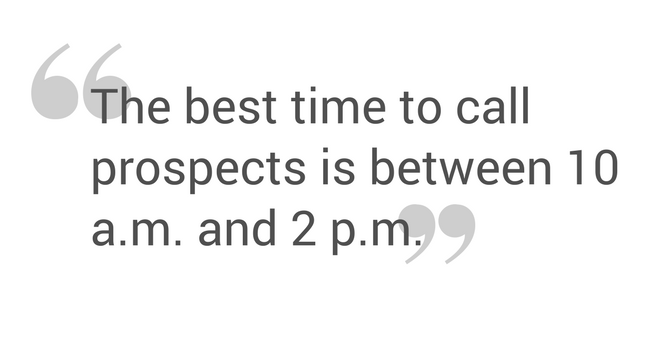 Many agents find that making telephone prospecting the first task every morning ensures that it gets done and frees them up to be rid of it for the rest of the day.
It works for Paul Argueta with REH Real Estate in Los Angeles. His painfully early start to the day — so he can work out and get his five kids off to school — still allows him to reach his office and dedicate time to cold calling.
Getting it out of the way first thing will help avoid procrastination
You also have more energy in the morning, according to Argueta. "Use this to your advantage. START early," he suggests.
Scripts only work if you work them
Don't use a script if you are unable to make it sound natural. The key to not sounding robotic is practice. Memorize the script and then practice it until it sounds natural – role play with another agent, your spouse, or kid.
A brilliant idea from Tyler Smith, former agent and now consultant to agents on how to build a referral business, is to call your voicemail, read the script and then listen back to it.
Don't be afraid to change a script to make it more in tune with your personality. Remember, though, that scripts written by professionals contain certain key phrases that are critical to the script's effectiveness (such as Mike Ferry's).