The SWOT analysis is one of the basic concepts taught at business school and is essential for all real estate agents. The problem is, however, the only business school many agents go to is the School of Hard Knocks.
But that's okay—you can be a graduate with honors of Hard Knocks University and still benefit from performing a SWOT analysis on your real estate business.
You may have all of the energy, drive and passion in the world—but without some sort of plan in place, even the most enthusiastic agents can suffer from massive diffusion, and find themselves confronted with too many tasks competing for the next hour of their time. As a result, none of their projects get very far, and the ones that do are poorly aligned with their needs and circumstances.
The Basics
The standard SWOT analysis, as we know it, was developed by Albert S. Humphrey, a successful management consultant in the '60s and '70s. Humphrey was looking for a tool that went beyond maximizing strengths and minimizing weaknesses; he wanted one that addressed how those strengths and weaknesses interacted with the broader business environment.
"SWOT" stands for:
Strengths
Weaknesses
Threats
Opportunities
Now, let's talk about what SWOT isn't. It's not a business plan. It is, instead, a foundational document that can help you develop your business plan in a more intelligent way.
How to Format Your SWOT Analysis
Most people arrange SWOT in a pie-shape like this: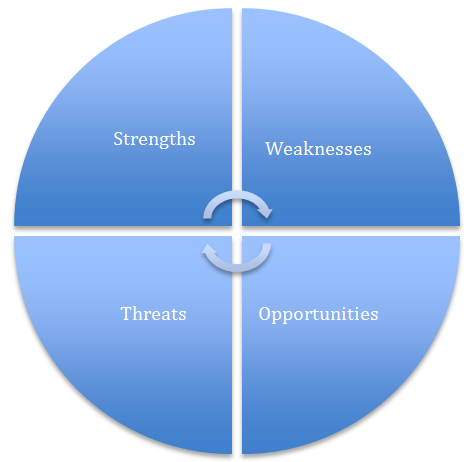 You can do that if you like, but it can be limiting. You need an awfully big circle to write everything in! Using an Excel spreadsheet will give you a lot more space, as will dividing a regular piece of printer paper into four quadrants.
Regardless of which option you choose, you can use four columns or four paragraphs—both work equally as well.
Want a ready-made worksheet? You can download our Real Estate Marketing Plan to access a SWOT analysis template, plus many other marketing resources.
Example Real Estate SWOT Analysis
Here's what an imaginary SWOT analysis might look like:
Strengths
Solid understanding of real estate taxation
Access to an affluent natural market
Live in a desirable community with generally high real estate prices
Well respected in the neighborhood/community/church/synagogue
Connections with a good hard-money lender
Expert on condominium association rules
Willingness to do shoe-leather prospecting
Fluent in Mandarin Chinese
Good mentor
Low monthly expenses
Weaknesses
Substantial economic uncertainty in local area
Lousy computer skills
Overweight
Limited savings
No interest in property management
No family money to speak of
Limited budget for marketing/direct mail
Poor Spanish skills (but lots of Spanish-speaking people in my market)
Weak back office/poor systems in place
Managing broker is new at the job
Mine is the only income coming into the household
Threats
Interest rates on the rise
Overpriced stock market could implode, reducing the "wealth effect"
Major storms in South Florida have been known to impact demand
Agencies are recruiting heavily in my area, resulting in more competition
Cash flow problems could possibly force me out of the business if I go more than a couple of months without a sale
Opportunities
Local area is gentrifying
Local community magazine giving me a deal on advertising
New factory opening in area, attracting many jobs
Military base means lots of people move in and out every three years, boosting transactions/turnover
Become eligible for broker's license this year
Find Your UVP
Every agent has a competitive advantage of some kind. It might be expertise in a certain neighborhood or with a certain market of people. What is your Unique Value Position, or UVP? What can you do, even as a new agent, that other agents would find hard to replicate, even if they threw a bunch of money at it?
If you're a rookie, you might have to be a bit creative. But every agent has some advantage he or she can use to get a leg up in their first few appointments, at least. The longer you work at it, the broader that UVP can be—but it should still be focused.
---

NEED MORE LEADS? Market Leader can generate a guaranteed number of exclusive buyer and seller leads for you each month. LEARN MORE >>
---
Flesh Out Your SWOT
Once you have a list of your strengths, weaknesses, opportunities and threats written out, the next step is to develop a concrete plan of action. Your plan should do each of the following:
Take advantage of every strength
Minimize, mitigate or eliminate each weakness
Take advantage of every opportunity
Neutralize every threat
It's not enough to have just a bullet point. Set a priority and give yourself a deadline for each item.
Here's an example, building on the "Strengths" column above:
Strengths
Solid understanding of real estate taxation

Develop a PowerPoint presentation and class handouts for taxation seminar – Complete by July 10
Reserve community room at Library – Complete by July 10
Advertise seminar for real estate investors on real estate taxation in local publications – Complete by July 15
Develop plan to capture emails and addresses of participants—Complete by July 1
Advertise seminar on Social Media (Facebook, Twitter, etc.)—Complete by July 15
Complete seminar (by earliest reservable date available)
And that's just one "Strength." There are other things you can do to capitalize on your strengths and unique knowledge of the business.
Write an e-book
Write a magazine article and submit it to the magazine you advertise in
Get a regular column or guest spot on a blog
Make an instructional video
Put your seminar on the Web
Each of these tasks will have its own priority, list of implied subtasks and set of deadlines. It's up to you how far you go.
Take Action
Of course, at some point, you have to stop typing and start putting your plan into action. Don't fall victim to "paralysis by analysis." Remember that a good plan executed now is better than a perfect plan that you never get around to implementing.
Yes, this SWOT analysis will be an evolving document. You will never be totally done. You can update it and refine it throughout your career, as your strengths and weaknesses evolve and as the market around you changes, and with it, the threats and opportunities in your area.
If you start with a strong SWOT analysis, flesh it out with a plan of action, add a priority to each task and set deadlines, then you are getting very close to a workable business plan.
After that, it is all about your own diligence, energy and execution.
Good luck!