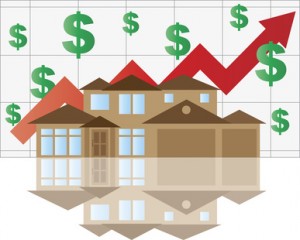 Low housing inventories and über-low interest rates combined to make the housing sector the economy's comeback kid in 2013. Like a precarious stack of Jenga cubes, however, pull one leg out from under that delicate balance and the whole thing comes crashing down – or at least changes dramatically. If you're an agent who prefers working with first-time buyers, be prepared to either diversify your client base or have a very slow 2014. Or so the news coming from housing industry experts indicates.
Interest Rates
The favorite mortgage of most first-time buyers – the 30-year fixed – may be unaffordable for many in 2014. Rates are expected to hit and hover at 5.5 percent, according to NAR chief economist Lawrence Yun. He chalks up the interest rate rise to the tapering of quantitative easing. Bankrate.com's senior financial analyst, Greg McBride, agrees, but feels that we won't see 5.5 percent interest rates until after mid-summer.
Since each percentage point rise in the interest rate adds about 10 percent to a mortgage loan, higher housing payments may just kick some first-time buyers to the sidelines. It's definitely time to turn up the heat under any lollygagging buyers to get them into a mortgage and a home before they are priced out of the market.
Rising Home Prices
Your commission checks were a little bit bigger last year because home prices rebounded – up 12.5 percent in October, year over year. It's anybody's guess how much more prices will continue to increase in 2014.
Economist John Burns tells USA Today that he anticipates a 6 percent hike in housing prices this year. Jed Kolko, Trulia's chief economist, says that although the pace will be slower than last year, "prices will still rise faster than both incomes and rents." While this is fabulous news for your listing clients, it will further discourage a lot of first-time buyers.
"Ability to Repay" Rules
Hot-off-the-presses mortgage lending rules will ensure that lenders scrutinize borrowers' ability to repay a loan even more than they have in the past. The "ability to repay" rule requires lenders to take into account the following eight underwriting factors:
The applicant's income and assets.
Monthly payments for this and simultaneous loans.
Mortgage-related obligation payments.
Debt payments, including child support and alimony.
By the way, Yun claims that, at a minimum, 5 percent of mortgages granted last year didn't meet the new standards.
It is such a common-sense regulation that one wonders why it wasn't put into place decades ago, but it will present additional hoops for your buyers to jump through.
Qualified Mortgages
Lenders will also be aiming to increase the number of loans considered "qualified mortgages." To reach this goal, they'll be shooting for the following features:
Clean loans, free of extended terms, interest-only payments and loans that don't meet the full amount of interest.
Loans above $100,000 with less than 3 percent in upfront points and fees.
A mortgage that keeps the borrower's debt below 43 percent of monthly income (unless it's backed by Fannie, Freddie or the FHA).
While not all lenders plan on sticking to qualified mortgages, most will in order to avoid the liability challenges inherent in riskier loans.
Insult to Injury
To top off the bad news, the FHA is lowering loan limits in 652 counties nationwide. The western half of the country will be hit the hardest with Arizona leading the way, followed by Nevada, California and Utah.
Since many first-time buyers rely on FHA guarantees to achieve the dream of homeownership, look for the new loan limits to lock out some first-time buyers in pricier markets.
The NAR says that first-time buyers made up only 28 percent of homebuyers in November 2013. With the significant challenges first-timers will meet in 2014, coupled with investor attrition as a result of higher prices, it's a safe bet that 2014 will be the year of the repeat buyer.