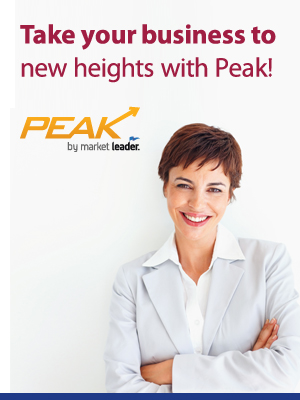 We're excited to announce the launch of the Market Leader PEAK program, an all-new approach to boosting the success of brokers, agents, and team leaders in the real estate industry.
This powerful combination of education, webinars, videos, and best-practice sharing is designed to help you surpass your strategic and revenue goals over the life of your business. PEAK is integrated with Market Leader customer solutions at no extra charge, giving you the framework to reach your full potential.
Reaching the top with PEAK
PEAK isn't just a one-time program. It's a commitment—by you and Market Leader—to the success of your business. From day one of using PEAK, you'll have all the resources you need to set goals, keep track of your progress, and expand your industry knowledge.
PEAK leverages leads, tools, and education
Effective lead generation, Market Leader tools, and education are key areas that are critical to your ultimate success. PEAK engages all three through a series of steps that allow you to create, meet, and exceed your goals.
PEAK guide
The PEAK guide is an online tool that is integrated with our agent and broker solutions offering worksheets, videos, and support—continually updated to reflect best practices and industry changes.
Brokers:
Teams—role roles, responsibilities and commitments
Goal setting—organizational goal setting and communicating
Measuring—accountability, regular check-ins, performance tracking
Recruitment—identifying the best candidates and recruiting techniques
Leading and retaining—communication and skills development
Motivating—understanding and utilizing recognition and rewards
Affiliates—extended team participants to help grow your business
Technology—systems for today's real estate business
Agents:
Goal setting—transactions, leads, activities, attaining the Gross Commission Income (GCI) target
Tools—websites, contact management, marketing center, on-line training and education
Leads—most lead sources used by successful agents
Processes—best practices, action plans, lead follow-up systems
Resources—real estate templates, scripts and forms
Learn more about taking your business to its PEAK!

See the PEAK overview for brokers and team leaders.
See the PEAK overview for agents.