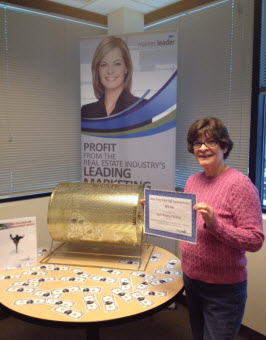 Marcia McCrary, Market Leader account manager, accepts the award on behalf of her customer, EXIT Realty Central.
Congratulations to EXIT Realty Central
We are happy to congratulate EXIT Realty Central, real estate brokerage firm of Norfolk, VA, as winner of the Market Leader New Year Kick-Off Sweepstakes, which took place during the month of December 2011. All Market Leader customers using RealtyGenerator, the real estate technology solution for brokers, were eligible to participate. For every 100 real estate leads that each real estate brokerage firm generated using Market Leader's RealtyGenerator system, they received an entry into a drawing for a $1000 Super Bowl Party, plus a mention in our monthly Market Leader newsletter. EXIT Realty Central generated more than 600 real estate leads using Market Leader's RealtyGenerator.
Other stellar performers using RealtyGenerator
Market Leader would also like to recognize the real estate brokerage firms that came in with the most real estate leads. Each of the following real estate offices generated 600 or more real estate leads using Market Leader's RealtyGenerator:
Everyone who participated generated more than 9,300 real estate leads!
Stay ahead of your real estate business by connecting with Market Leader!