Building your brand across various social media platforms has many advantages to your business. As a real estate agent, it's important to get your listings out to as many people as possible. Also, it's important that people know where they can find you so they can look up information about your company, consider the services you offer, and find a way to contact you.
With that said, here are six Realtor® branding tips every agent should take to heart in order to build a prominent brand across a variety of social media platforms.
Connect to Your Potential Clients Through Facebook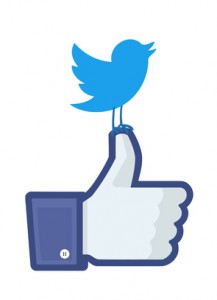 Facebook is a great tool for real estate agents. Whether you reach out to family and friends to get referrals or connect to potential clients, Facebook is perfect for expanding your network. When using Facebook, it's important not to come across as too much of a salesperson. Instead of forcing yourself on potential clients by bombarding them with Facebook messages about your business, take part in natural conversations and let those conversations lead into the services you offer.
Never post status messages like, "I'm taking new clients, so call me now." Instead, take the "top of mind/awareness" approach by posting, "I'm grateful to have so many great clients." You could also post pictures of your home listings with comments like, "Super excited about this new house – could you live here?" Whatever the case, remain strategic and consider how your audience perceives you.
As far as networking goes, make sure to tag your sellers in the home pictures you post on your Facebook page. This is a great way to open yourself to their networks. Also, try posting messages directly on your seller's wall so other people can see who you are. Anyone who's interested will add you to their list.
Depending on your strategy (branding your business vs. branding yourself), it might be best if you set up a business fan page in addition to your personal account. You'll be able to use it for posts more directly associated with selling homes. However, keep in mind that you don't want to be too sales-oriented here either. Offer information that's engaging and useful, and the sales are more likely to follow.
Much of agent Jenelle Isaacson's clientele are single women, and Facebook provides a channel where she can connect with them.
Promote Yourself Through YouTube
YouTube is often overlooked when it comes to social media networks because it isn't like the other more traditional platforms. To attract more business, simply start filming all of your home listings and post them on your YouTube account. When filming and posting the videos, be sure to highlight any details of the home listing and use proper keywords to attract potential leads. If done right, people who search Google will run into your YouTube video listings.
When it comes to YouTube, making your video title rich in keywords can be crucial for search engine recognition and possibly even for making it go viral. For example, if your listing is in New York, make your title "New York Real Estate – (insert listing address)." This will drive more traffic to your website and boost your ranking within Google search results.
Here's an excellent example of how an agent can brand themselves in a unique way and market their services all while having fun and entertaining potential clients:

Reach Locals via Twitter
Although time-consuming, Twitter works well if you're trying to reach a local audience. In order to reach a sufficiently broad local audience, you need to get followers!
To build a healthy following of locals, look at who is following your local celebrities, radio DJs, restaurants, Rotary clubs, and any other personalities or organizations in your city. These types of profiles will almost always have a local following of people. Once you've found the locals, follow them. Following locals on Twitter that you haven't met in real life amounts to a virtual handshake – and gives you the opportunity to have your brand make an impression on them!
Once the person has noticed that you've followed them, they'll likely click on your profile and website to see who you are. Not only does this bring traffic to your site, but people who see value in your service will start following you, allowing you to expand your network to even more people on Twitter. Twitter users also tend to be more engaged with brands than Facebook users, and they're more open to making connections with people (and companies) that they don't already know.
The below picture is a perfect example of how an agent can use Twitter to connect themselves and brand their business.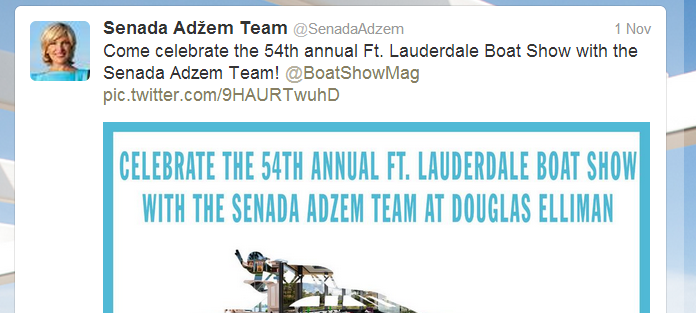 Talk With Other Professionals on LinkedIn
After signing up for LinkedIn, the first thing you should do is optimize your public profile. After that, get active in various groups that are associated with the real estate industry. Additionally, you can start your own group to attract other people in your area. By starting a group or joining one, you increase the chance of referrals.
Not only do you have the ability to contact potential clients through LinkedIn, but you also have access to other professionals within the industry who can point you in the right direction. Either way, by using LinkedIn, you're increasing your brand's recognition and expanding your network.
Drive Online Traffic to Your Blog
While maintaining an online blog isn't a necessity, you should consider hosting one on your site so you have a central hub from which you can create content, and to which you can drive traffic from social media. Having a blog is a great way to not only drive online traffic to a specific place (from your other social media accounts), but to showcase your online marketing efforts as well.
If nothing else, blogs are by far the best places for Realtors with active web presences to publish content.
Make Social Media Easier With HootSuite
Here's a quick introduction to the powerful – and free – social media tool called HootSuite:

HootSuite combines all of your social media accounts into one platform. This makes it easier for you to reach out to people and network with them on a consistent basis. If you don't want to sign in to five different accounts to spread your message, consider using HootSuite. It'll help you build your brand while saving you time and energy.
Editor's note: Market Leader's social media gurus use HootSuite extensively and can attest to how powerful and efficient a tool it is!
If you want to be successful in the real estate business, it's important to build your brand. With more people using social media to communicate and learn about new companies, it's time for you to sign up and take advantage.
This guest post was written by Vikki Serpas, a writer and graphic designer from Tampa, Fla. When she isn't typing away on her keyboard, she enjoys reading books, traveling, and learning different languages. Follow Vikki on Twitter.