Want more real estate news? Click here for a complete list of our "This Week in Real Estate" articles.
Time Is Right for Millennials to Buy Real Estate
If you encounter any apprehensive first-time buyers, tell them that the time has come to end their wait and invest in the American dream of owning a home. According to a story in The Tennessean, now is a great time for millennials to enter the real estate market. Here are a few reasons why:
1. Low Interest Rates
Rates are still hovering near the bottom. That should help first-time clients find affordable homes. Despite recent hikes in rates, the average weekly rate for the 30-year fixed mortgage program is still below 4.5 percent, which is a historic low. There's no guarantee that rates will stay that low, so encourage buyers to get into the market before rates go up and make it more difficult for them to buy.
2. Down Payments Are Not a Barrier
The good news is you can still buy a home without investing 20 percent in a down payment. While many lenders are still scrutinizing credit histories closely and demanding higher down payments, other options exist for millennials and other first-time buyers. Encourage your clients to explore options such as the Federal Housing Administration's loan program, which offers loans with down payments as low as 3.5 percent. Different states also have housing finance agencies that help first-time buyers. Some offer a lock on mortgage rates for a specific time period. Encourage your clients to explore all options.
3. Homes Are Assets – Investments for the Future
Remind your newbie clients that homes are an asset. Owning their own home rather than renting could help them build wealth. Rents are climbing steadily, and in many markets it's cheaper to buy than to rent. According to The Tennessean article, Americans have more than $10.8 trillion of equity in their homes.
U.S. Home Prices Rise at Average Monthly Rate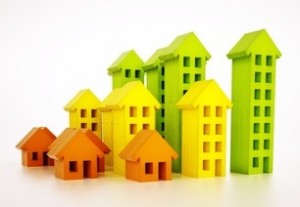 According to the Trulia Price Monitor and Trulia Rent Monitor, two early leading indicators for rents and asking prices, home prices rose 0.8 percent month-over-month in July. The increase was in line with the average monthly gain over the past year, settling back down after a 1.2% month-over-month in June, said Jed Kolko, Trulia's chief economist, on the Trulia Trends blog.
Home prices aren't rising as sharply as they were before, but home price increases are happening nationwide. The report notes that 97 of 100 metro areas posted year-over-year price gains, while 94 markets posted quarter-over-quarter gains.
That's a sign that the market is on the right track, and that housing overall is stabilizing. For the first time in more than two years, none of the big U.S. housing markets experienced a year-over-year increase in home prices of more than 15 percent, Kolko said. Most of the price gains are happening in the Midwest and the South.
Kolko said local markets need to depend more on job growth to drive housing demand. That's a more sustainable driver for the industry's growth, he said.