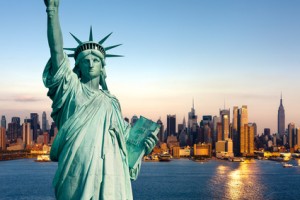 Okay, I will admit it. I'm a little jealous that several of my event marketing peeps, like Alex Allison with Dot Loop and Dan Stewart of Happy Grasshopper, are in New York City this week attending one of the most influential real estate industry events of the year, Real Estate Connect New York City, hosted by Inman News. Not only is NYC one of my favorite cities to visit, but Inman Connect stays true to its name. It's all about bringing the smartest, most talented speakers and technology gurus within the real estate industry together to connect and inspire. (If you want to learn the true value of this, read my blog post on why real estate industry events are important for business.)
Attendees will get to hang out with Katie Lance and Chris Smith from Inman News, two of my favorite peeps within the industry. The agenda at Real Estate Connect New York City is packed with outstanding topics and sessions. If you're looking to extend your business trip over the weekend, here are a few of my travel tips to New York City. This list is compiled from several emails from friends and family members who live in the Big Apple, so it's sure to be worth the read or another visit!
Helpful Travel Hints:
Bring cash, and don't forget to tip the chambermaid at your hotel.
Visit hopstop.com for bus, subway and walking directions.
Buses are the best for getting across town and to events downtown. Don't rule them out for transportation.
Cabs now take credit cards. Even though they are pricier, cabs are my preferred mode of transportation – riding in one is an adventure!
New York Mag – tons of great info here; be sure to download it to your iPad mini.
Make reservations for dinner. You will end up wasting time if you don't.
Looking to book a corporate party last minute? Check out Shecky's NY Party Aid – I've never used them, but heard they are legit.
Dress to impress – bouncers in NYC are notorious for judging you on your outfit and cuteness, so be sure to grab your younger self to get into the popular nightclubs.
NYC Eats:
Looking for a mile-high pastrami sandwich at 3 a.m.? Check out Carnegie Deli (854 7th Ave. at 55th Street). Open since 1937, its midtown location and late hours make it a popular choice for visitors. Cash-only.
Famous as the location of the orgasm scene in "When Harry Met Sally," Katz's Deli (205 E. Houston St.) serves up delicious sandwiches – but don't judge them for their décor.
Dishes (6 E. 44th St. off Fifth Avenue) – love this higher-end deli  for lunch, good soups and various locations.
Dean & Deluca in Rockfeller Plaza.
Blockheads – huge, cheap burritos and other casual Mexican food with various locations.
Rosa Mexican (9 E. 18th St., between Fifth and Broadway) – best ever guacamole at John McEnroe's favorite restaurant in the city.
Dining "Hall" of Grand Central Terminal.
Epistrophy Café (200 Mott St., between Spring and Kenmare) – good wine, good food, very NYC.
Pret a Manger – various locations.
Shade (241 Sullivan St. near W.Third St., West Village) – If you order from the window, don't expect to find a seat, but they serve the most amazing crepes in the city.
Pastis – for stargazing and jet setting.
Tavern on the Green – best eggs Benedict and ambiance in the city. Be prepared to pay for the experience and dress up.
Shopping:
Fifth Avenue – Start at 59th Street and walk to 44th where you can eat lunch at Dishes or Dean & Deluca.
Apple Store (59th and Lex)  – If you want to be like Chris Smith or Jeff Lobb, you'll need a mini at Connect.
Bergdorf Goodman (59th and Lex) – Ok, so I may not always shop here, but I do a lot of window-shopping.
Henri Bendel – in almost every movie that takes place in NYC.
H&M – best and biggest is on Fifth Ave. at 51st
Banana Republic – largest in the world and most selection is at Rockefeller Center (Fifth and 49th).
Saks Fifth Avenue – show floor for all you ladies or for you men, the perfect gift to bring home to your girl!
Club Monaco – best sales at Fifth and 20th location.
Soho/Tribeca  – So many shops I can't list them all. My favorites are Tory Burch and Topshop – opened on Broadway and Broome. Kate Moss has her line there.
Tourist Attractions:
South Street Seaport – shopping, eating, museums, etc.
The Met Museum of Art – This is free – "suggested" donation only.
Natural History Museum – Check out the mammal halls – Amazing!
International Center of Photography.
Central Park – nuff said.
Circle Line tours or Statue of Liberty tour – nice to get on the water and see the city from another view.
After Dinner Hot Spots:
Gramercy Tavern (42 E. 20th St. and Park Avenue South) – never been but heard it's great.
230 Fifth (230 Fifth Ave. at West 27th Street) – ultimate rooftop bar.
Flute Gramercy (40 E. 20th St.) – champagne bar, so expect to dress the part and pay the same.
Head to meatpacking district for late night dinner/drinks then head off to dancing!

Spice Market.
Son Cubano – loud, crazy, trendy.
Buddakan.
Gansevoort Hotel.
Attending Inman Connect NYC this week? I'd love to hear your key takeaways from the event and any new favorite finds in the big city! Any new restaurants or shops I need to add to my list? Enjoy!