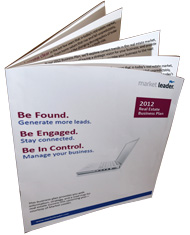 It's not too late to build your 2012 Business Plan for real estate

Do you have a 2012 Business Plan for Real Estate? Between the holidays, traveling, conferences, and wrapping up your 2011 business year, the New Year may have crept up on you. But, here we are, more than two months into 2012, and things are quickly ramping up.
It's not too late. Make 2012 the year that you take the time to build a solid plan for maintaining, growing, and sustaining your real estate business. Let Market Leader help you along the way. 
We have been sharing this valuable tool with our current and future customers since last fall, and the demand for this valuable tool has remained high. We are happy to continue to share this business plan for real estate, free to you and your fellow real estate professionals.
Get Market Leader's FREE Business Plan for real estate today!
>2012 real estate market forecast – What is the current state of the market, and where is it headed in 2012?
>10 trends for 2012 – Market Leader CEO Ian Morris and REAL Trends editor Steve Murray offer their take on 2012 market trends, from changing buyer demographics to increased commission pressure, and more.
>How to thrive this year – Today's real estate professionals need innovative, economical and new approaches to attract customers. We offer five steps to making and fulfilling strategic business goals.
>Worksheets to help you plan – Grab your pencil and we'll help you calculate your operating expenses, marketing needs, and number of transactions needed to meet your salary goals.
>And much more – Our 2012 Business Plan for real estate tackles the industry's current challenges and discusses the value of current trends, from Craigslist postings to new business models; from the recovery of the housing market to pay-per-click advertising.
Click here to download your FREE copy of Market Leader's 2012 Business Plan for real estate today.
Making a 2012 real estate business plan is the first step to creating future success with Market Leader. In our 2012 Business Plan for Real Estate, you'll find first-hand accounts of success that our customers have had using Market Leader. Katrina B, a Prudential Real Estate agent from Anchorage, Alaska said:
"I have been with Market Leader for a year now and I have sold $4,500,000 of real estate, compared to last year's $1,800,000. And with over $4,700,000 in active listings to date, my business overall has tripled."
Do you want help creating your own 2012 Business Plan? Call Market Leader today for a FREE consultation. If you are an individual agent, please call 1-800-224-9427. Managing brokers or teams, please call 1-888-240-3060. We'll help you discover how lead generation, technology solutions, and education can take your business to the next level.
Stay ahead of your real estate business by connecting with Market Leader!